Listen here to This Is Yu Podcast Episode #6,  I mention that Shepherd's Pie holds a special place in our family food memories.  The big dinner of the week was our Sunday night meal. My mom would make a whole bunch of different types of meals, but because I'm from a really super white bre(a)d family, there was no spice. There was no variation in our meals. Spicy food for us was a little bit of extra pepper!
But mom used to make Shepherd's Pie, and I loved, loved, loved the Shepherd's Pie.  Especially in the winter time. Remember I grew up in Toronto, Canada where it was freezing cold. We played so much hockey. We'd be outside, going to public skating, having hockey games or practices. We were always in cold arenas. Coming home for that dinner on a Sunday night was awesome because we had this warm Shepherd's Pie to look forward to.
Shepherd's Pie is from Great Britain. England, Ireland, Scotland, and Wales all have different variations of it.  But wherever it comes from, it's good, hearty peasant food.  For my mom, everything was cooked in a 9 by 12 glass dish. The Shepherd's Pie was no exception. You can make it with ground lamb or ground beef, and then there is always onion in it. 
There are potatoes, corn, carrots and peas, and then there is a little bit of salt. If you want it spicy, add a little bit of pepper, and cook it all off. There is always some sort of a broth in it.
You can make it with red wine, but my mom was just drinking the red wine. She didn't want to waste it inside the Shepherd's Pie.  Boil it all down and simmer for a while. Then put it in the 9″ X 12″ dish. 
The next step is to mash up the potatoes. Put a ton of butter and a ton of salt. Pretend you are in grade 7 art class.  You have the 9 by 12 glass dish. Put the meat portion in the bottom of the dish. After, take your mashed potato with a spatula and just cream it all on top all the way over to the edges.
Finally,  put it into the oven for a set amount of time.  When it comes out just use a spoon and take big chunks of it.
Get the meat and the mashed potatoes and just plunk it down on your plate. You will feel like you're in medieval times. Just eat through this stuff.  It's so good. It will just fill you up because it is super hearty peasant food!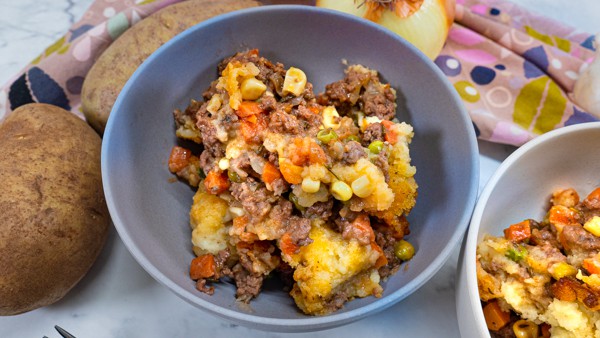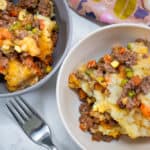 Print Recipe
Anne's Family Shepherd's Pie
This hearty family Shepherd's PIe was a favorite memory of our Sunday Night Dinners
Equipment
Medium Saucepan

Potato Masher or Ricer

Microwave Safe Container

Microwave

Wooden Spoon

Saute Pan

Chopping Board

9" X 12" Glass Baking Dish

Half Sheet Pan to catch Drips
Ingredients
For the Potatoes:
1½

pounds

Potatoes

Russet or Golden

¼

cup

Half and Half

(or substitute cream)

2

oz

Unsalted Butter

¾

tsp

Kosher Salt

¼

tsp

Black Pepper

freshly ground

1

Egg Yolk
For the Meat Filling:
2

TBSP

Canola Oil

1

cup

Onion

chopped

2

Carrots

peeled and diced small

2

cloves

Garlic

minced

1½

Pounds

Ground Beef

1

tsp

Kosher Salt

½

tsp

Black Pepper

freshly ground

2

TBSP

All-purpose Flour

2

tsp

Tomato Paste

1

cup

Chicken Broth

1

tsp

Worcestershire Sauce

2

tsp

Rosemary leaves

freshly chopped

1

tsp

Thyme Leaves

freshly chopped

½

cup

Corn Kernels

fresh or frozen

½

cup

Petite Peas

fresh or frozen
Instructions
Mashed Potatoes
Peel the potatoes and cut into ½-inch dice.

Place in a medium saucepan and cover with cold water.

Set over high heat, cover and bring to a boil.

Once boiling, uncover, decrease the heat to maintain a simmer and cook until tender and a fork easily goes into the potatoes, approximately 10-15 minutes.

Place the half and half and butter into a microwave-safe container, and heat in the microwave until warmed, about 45 seconds.

Drain the potatoes in a colander and then return them to the saucepan.

Mash the potatoes and then add the half and half, butter, salt, and pepper and continue mashing until smooth. Stir in the egg yolk until well combined.
Meat Filling
Preheat the over to 400 degrees F.

While the potatoes are cooking, prepare the filling.

Place the canola oil into a 12" saute pan and set over medium-high heat.

Once the oil is hot, add the onion and carrots and saute until just browned and cooked through, approximately 3-4 minutes.

Add the garlic and stir to combine.

Add the ground beef, salt, and pepper and cook until browned and cooked through, approximately 3 minutes.

Sprinkle the meat with the flour and toss to coat, continuing to cook for another minute.

Add the tomato paste, chicken broth, Worcestershire, rosemary, thyme, and stir to combine.

Bring to a boil, reduce the heat to low, cover and simmer slowly 10-12 minutes or until the sauce thickens slightly.
Put It All Together
Add the corn and peas to the meat mixture and spread evenly into a 9 X 12-inch glass baking dish.

Top with the mashed potatoes, starting around the edges to create a seal to prevent the mixture from bubbling up and smooth with a rubber spatula.

Place on a parchment-lined half sheet pan on the middle rack of the oven and bake for 25 minutes or just until the potatoes begin to brown.

Remove to a cooling rack for at least 15 minutes before serving.
Notes
Scott's mother Anne used ground beef instead of the traditional ground lamb.
Nutrition