C-Welcome to Episode 25 of This Is Yu Podcast.
C -This Is Carole Yu and Scott Stewart
This Is Yu Podcast Music intro….
C-You just heard a clip from Justin Warner's show for Marvel called "Eat the Universe." More on that later.
But, first, today, taking inspiration from Justin and his quirky science meets food mashup world, we're going to talk Molecular Gastronomy. Stay tuned to after the interview with Justin where we'll actually step you through one of his super galactic recipes.
Justin Warner – Marvel's Eat The Universe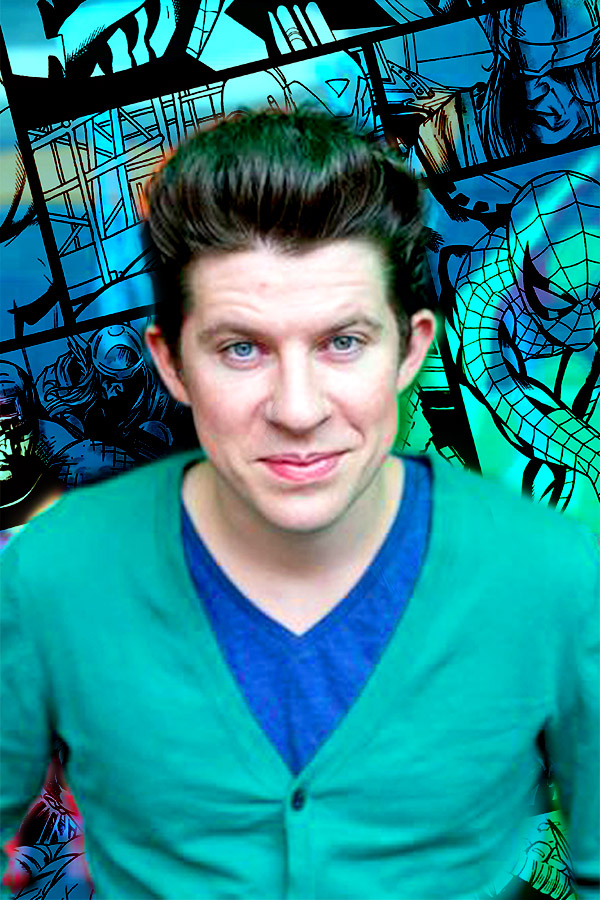 S-Carole, I remember about ten years ago you bought Dara a molecular gastronomy kit for her to play around with. I think you got it on Amazon right? How did that come about as even an option?

S- Today we welcome Justin Warner who burst onto the food scene by winning Season 8 of Food Network Star.
What's amazing is he's totally self taught and has created a life full of creative and idiosyncratic food.
C- I remember watching that season, and I was so blown away by his inventiveness. I think because he doesn't have that formal training, his vision isn't clouded by traditional ways to cook foods, and pair flavorings.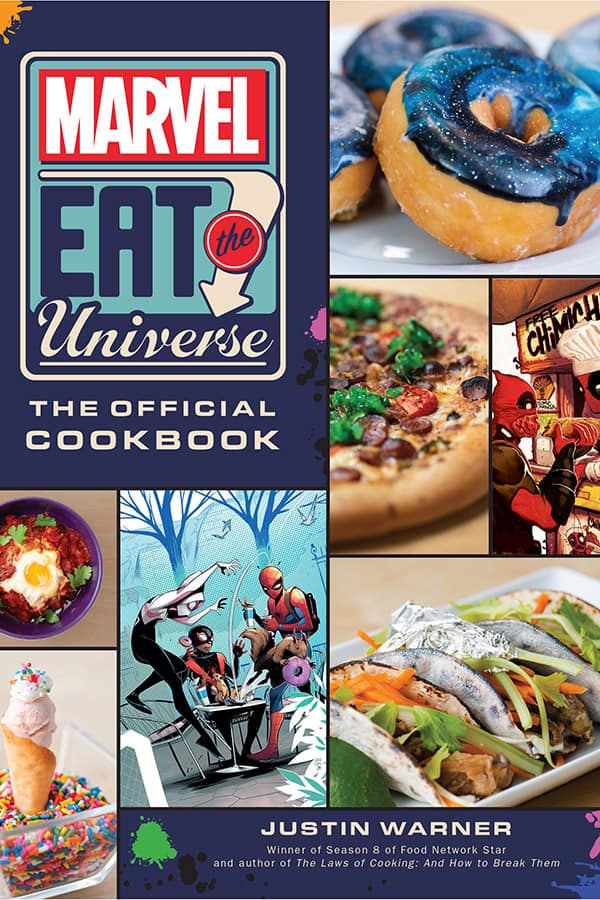 Order Eat The Universe
S- We talk to Justin about his early competitive spirit when he was still in middle school in Maryland. Justin worked his way up through the front of house in restaurants, until he worked in NYC for Danny Meyer. He was a captain at The Modern which is a restaurant in the Museum of Modern Art.
C- Justin then appeared on 24 hour restaurant battle on the Food Network in August 2010 and won with his brunch restaurant concept. Then, he got called back in 2012 to be on Alton Brown's team on the 8th season of Food Network Star. He won, and that's how his food media career took off.
S- Around this same time, Justin had a restaurant called Do Or Dine, in Brooklyn, which paired unusual tastes together, like and caviar nachos, shishito with yuzu, wasabi, hickory and green tea, or venison wontons with Jarlsberg cheese.
Nova (Richard Rider)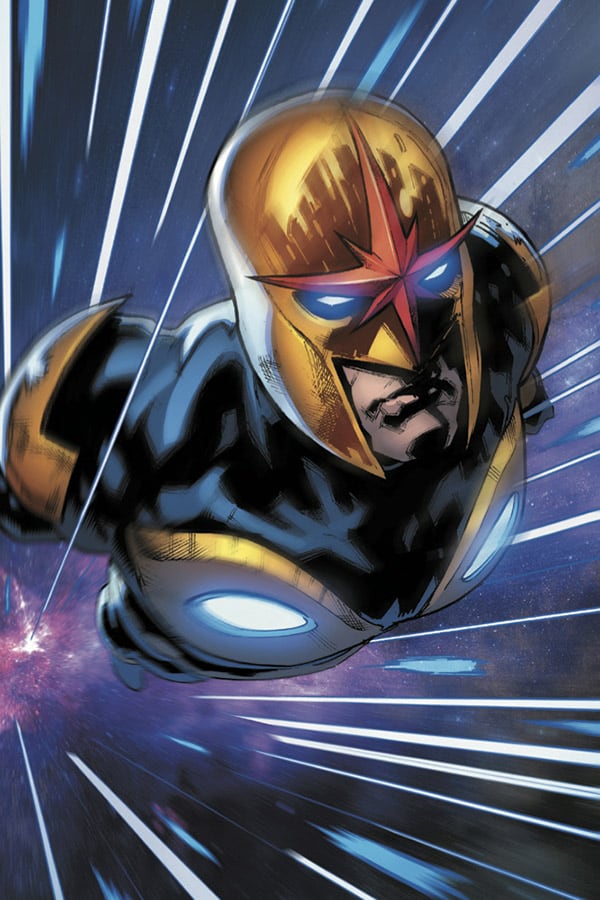 C- I remember we ate there with Dara, and Justin was super engaging and even sat down with us for half an hour talking about food TV competitions, since Dara had just finished her show on MasterChef Jr. I was dying over the fish and chips. It had an entire deep-fried fish that looked like it was swimming on top of a huge pile of fries. Mmmm, so mouthwatering.
S- Justin has several cookbooks, and more to come and now has a partnership where he has done over 47 videos for Marvel Comics with his Eat the Universe cooking show. He represents as Marvel's food expert at all the great comic conventions.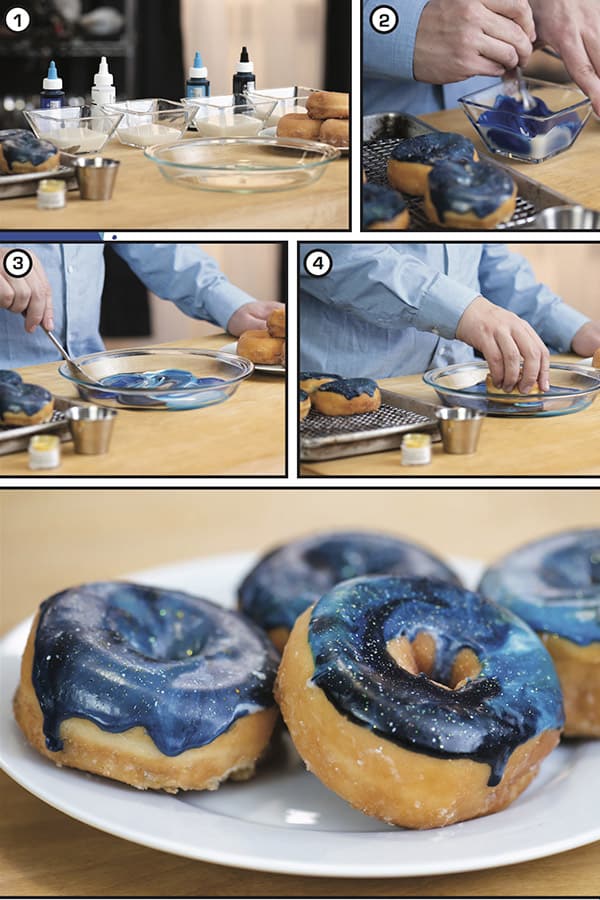 C- Here you go, Take a listen…..

C-Thank you so much to Justin for joining us in today's conversation. It's been so awesome to follow your career from restauranteur to Food Network Star to Marvel comics food expert.
S- We're so happy that you've found a way to really make the most of your creative and innovative food spirit!
Justin's Other Items on Amazon
S-As always, we really appreciate your thoughts and feedback about the show.
C-You can reach us on Instagram or Facebook at [This Is Yu Official] or you can leave us a voice memo at [562-291-6037]. We listen to all the voicemails.
S- Home base is www.ThisIsYu.com
C- Thanks for listening to the show. Speaking of APPLE PODCASTS, Please SUBSCRIBE, COMMENT and RATE our THIS IS YU PODCAST.
S-Have a great week! Thanks for listening and letting us make your life more delicious.

Justin Warner's Information:
Twitter @EatFellowHumans
Instagram @EatFellowHumans
Marvel & Justin – Eat The Universe – On You Tube – https://www.youtube.com/watch?v=uKWPfouH9vc
Website – http://www.eatfellowhumans.com/
Molecular Gastronomy Kit