My Mom's "Better Than Takeout" Easy Fried Rice !!

This "Better Than Takeout" Easy Fried Rice Recipe was one of the first dishes my mom taught in her cooking classes and one of the first dishes she taught me to make! Every Tuesday night, my dad, my two sisters and I abandoned the house and headed to Burger Chef so that my mom could teach students out of our kitchen.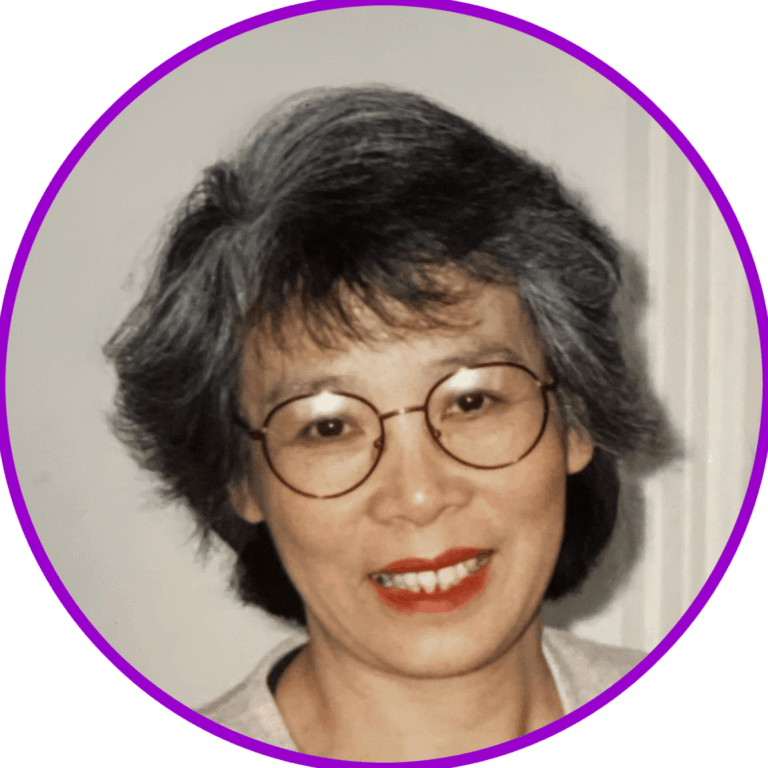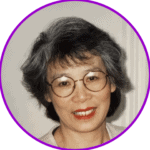 I thought it only appropriate that I start the first episode of the YuCanCook show with the same recipe that my mom also started her classes with.  I hope you enjoy it.  
A word about the "set." The last ten months, my husband Scott and I have been remodeling our house and rebuilding our kitchen set. Scott had built a set for my daughter Dara after she was the finalist in season one of Masterchef Jr.  She went on to have a show for DreamWorksTV
Click here for MasterChef Jr. Blog Post
Click here for MasterChef Jr. Podcast episode
Let me know in the comments below or in the comments on the YouTube episode what you think of the recipe and the set!
I'd love to see your dishes, if you post on Instagram, please tag it with #YuCanCook!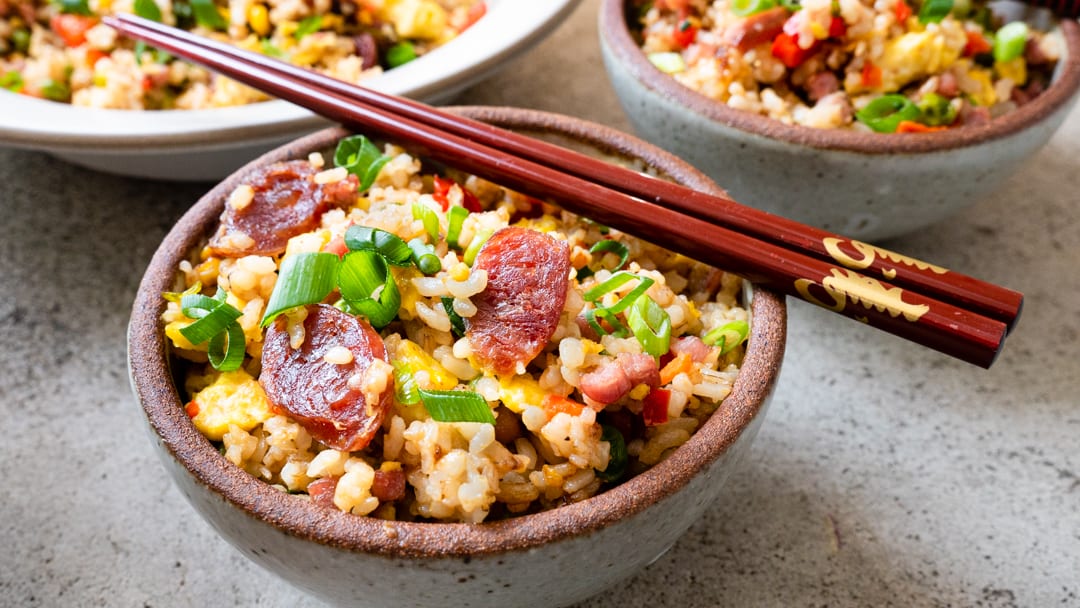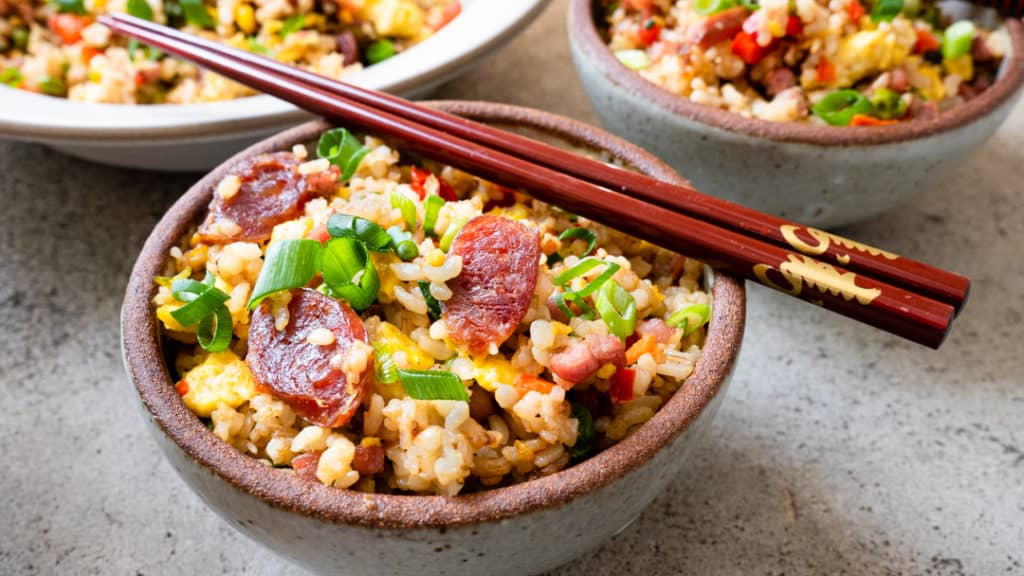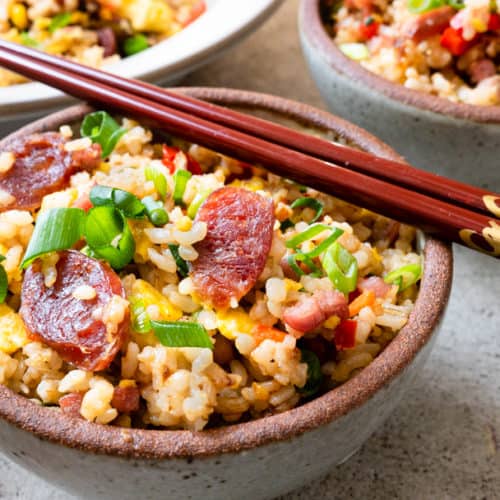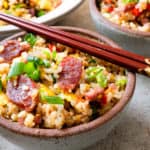 Print Recipe
Easy Fried Rice Better Than Takeout
A Basic Fried Rice Recipe for you to use as a basis for fried rice exploration!
Ingredients
4

cups

rice

cooked

3

tbsp

cooking oil

canola, or peanut, or other high smoke oil (divided)

3

eggs

slightly beaten

1

tsp

salt

divided

1

cup

ham

diced

1

cup

peas

cooked

½

red pepper

diced

3

sprigs

green onion

chopped into sifflets

1

tbsp

soy sauce

can be low sodium

1

tsp

sesame oil

½

tsp

black pepper

1

tbsp

ketchup

(optional)
Instructions
Heat the wok, dutch oven, pot, or frypan over medium heat.

Add 1 tbsp of oil and heat for 30 seconds.

Break the eggs into a small bowl, add ¼ tsp of salt, and whisk until yolk and white are thoroughly combined.

Scramble the eggs until still moist, and not overdone. Turn off your heat, and put the eggs back in the small bowl. Break up the eggs with chopsticks and set aside.

Reheat your pan over high heat. Add 2 tbsp of oil and heat for 30 seconds.

Add your rice and stir fry until hot, about ten minutes.

Add ham, peas, red peppers and green onions, and stir fry until all are combined and warmed throughout.

Add the soy sauce, 3/4 tsp salt, pepper, sesame oil, and ketchup (if using) to taste.
Notes
This is your basic fried rice recipe.  Start with this recipe and add whatever leftovers you find in your fridge. Be adventurous and try adding something new!
I have given the option to add ketchup, which a lot of kids will love having that familiar taste in the rice.
Add mushrooms, onions, broccoli, carrot, celery, bok choy, brussel sprouts, green beans, whatever is leftover in your fridge and needs to be used up!
When I was growing up, my mom would often add Chinese Lap Cheong (Chinese sausage) and frozen mixed vegetables (carrots, peas, corn, and beans) in our fried rice.  That was why I loved her fried rice so much. I loved the chewiness and saltiness of the lap cheong, and the simplicity of the frozen veggie mix.  There's something about the consistency of the frozen veggies that brings back memories!
Nutrition