Hey Guys! I know this is not going to be the sexiest post ever! But I can't stress enough, the importance of having, a file back up routine in place. This will save you hundreds of dollar$, time and energy. Not to mention that phone call from the computer store tech guy, " I think I can get your data back, maybe! It should only cost around $900.00. Oh and tax! And yes you are going to pay it, because all that data represent hundreds and hundreds of hours of your hard work!!!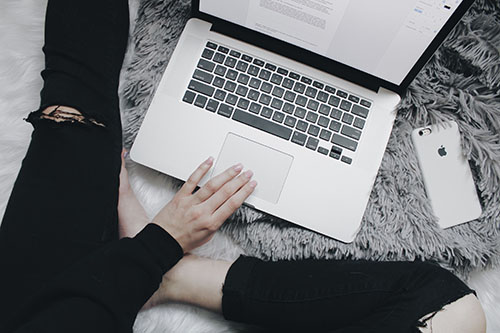 External Hard Drives Are Your New Best Friend.
I want to share with you our system we use to backup our words, websites, images, videos etc. First I want to point something out. I use external hard drives! I store nothing on my 27in imac or my 15in Macbook pro. Why, because it slows them down. Plus I can then use my external hard drives on Carole's computers and visa versa. I really like that flexibility! Your computer has an internal hard drive which has the operating system plus all the programs you are running. So I buy external hards drives and keep everything organized on these drives.
If Found Please Return Here.
I simply put our names, phone numbers, and label the hard drives. I am running around, from home to Starbucks, and if I was to ever leave one of my drives, I know I would get a phone call.
So what I do is, buy 2 external hard drives. 1 blue drive and 1 red drive. One drive is my main drive and the other is my back up drive. I never keep them together. I keep my main drive with me, on my desk or in my bag. And I keep the back up drive in a separate building.
Where can I get these hard drives you recommend?
I am partial to these Blue and Red Seagate Hard Drives. I buy the 2 gig size, you can get bigger but here's my thoughts on that. The 2 gigs have a good price point. I'd rather have an issue with 2 gigs of my data then with 4 gigs of my data. That's just me. They are a really solid piece of tech and I have never had any problems with them. On Amazon they have 4 stars out of 18,934 reviews – amazing! They work great for both Apple or Window's computers.
Here is a link to my Seagate 2TB Hard Drives on Amazon:
What Software Do I Need?
Ok so the next thing we need to do is wrangle some software. I'm going to cover 3 options. Apple, Windows and the Cloud. I'm an Apple guy so what I use is Carbon Copy Cloner by Bombich Software. Carbon Copy Cloner has a ton of features. But I keep things real simple, I tell the software – " hey make an exact copy of my main hard drive," and off it goes to work! Check out their website for all the latest features Click here for the Carbon Copy Cloner website. They have a a free 30 day trial which will give you plenty of time to decided to purchase!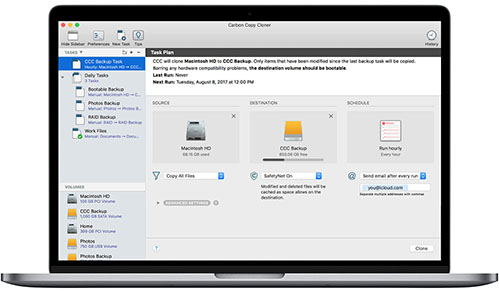 Great, But I'm On Windows…
Fantastic, cause we are gonna show Windows users some love with Sync Home Pro by Resilio. They lean on the sync everything together, side of things, but once again this product has a ton of features which you can check out on their website. Click here for the Sync Home Pro Website. They have a 30 day money back guarantee and a 4.4 out of 5 score on Trust Pilot.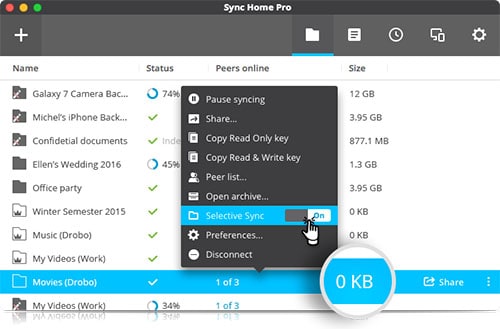 It's Getting A Little Cloudy

Which brings us to our final back up solution – look up, nope a little higher, higher then that tree, a little higher, a little high, oops, too high. Every cloud has a silver lining! We are talking about sending your data to the cloud. Let them handle your data on their redundant networks. You just set up an automated back up plan, and it happens behind the scenes. You must be connected to the internet for this to happen, dah!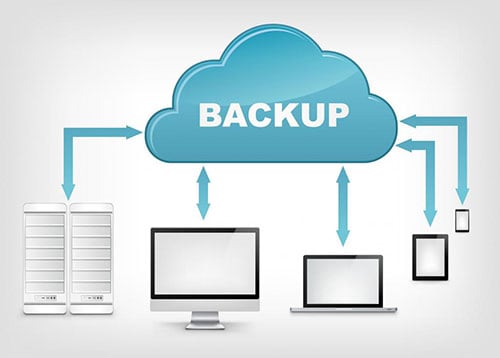 Carole and I used an offsite Cloud based back up solution when we had the store in Santa Monica and it worked quite well. Carbonite since it is cloud based, allows for both Apple and Windows users. You nerdy nerds can visit their website for more details. Click here to visit the Carbonite website.
Anything Else?
But of course – the conclusion. For me and my money, and I'm actually using this system – it's the 2 hard drive system. I really, really, no really like the flexibility of the 2 drives in separate locations, where I can easily access them. Plus I don't have to pay for a monthly cloud based system. I just purchase the cloning software once and I'm off to the races with my 2 Seagate 2TB hard drives. See I told you this wasn't going to be a sexy blog post, unless you find piece of mind sexy – which I do.
ThisIsYu.com is a participant in the Amazon Services LLC Associates Program, an affiliate advertising program designed to provide a means for sites to earn advertising fees by advertising and linking to Amazon.com.