Back in 2011, my daughter Dara and I had been watching non-stop Food Network for four years. I was pretty much tired and catatonic since my husband had died. That had been the catalyst for the start of this TV binge. You would have thought perhaps our television remote control had been thrown away, and we weren't able to change the channels!
Dara was then ten years old, and after watching over one hundred episodes of "Chopped," I thought, "Hey, let's see if she'll play along." I gave her blueberries and flank steak, put thirty minutes on the clock, and said, "GO!"
Thirty minutes later, she had toasted a few slices of baguette, seared up the Flank Steak, and created a delicious sweet-savory Blueberry Honey Cayenne sauce for her first creation of Flank Steak Crostini.
Playing "Chopped" on a regular basis
Over the next few months, (remember she was ten years old!) we kept "playing" "Chopped- Yu edition" and she came up with…
Savory tries
Citrus and Lemon Pasta Salad with Chile Spiced Mango, Oranges, and Pomegranate Seeds topped with Sour Cream and Marinated Slivered Almonds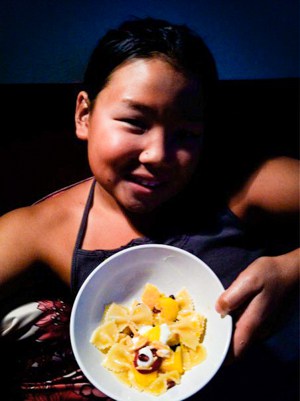 2. Five Spice and Fresh Basil Shrimp Croquettes with Shitake Mushrooms over Soba Noodles
3. Rich Chicken Broth with Turkey Meatballs and Orzo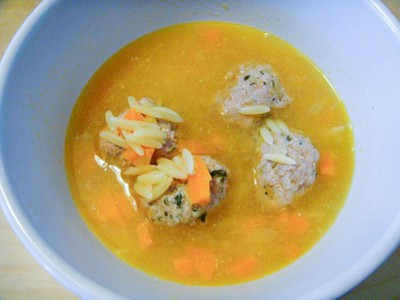 4. Pan Fried Sticky Rice cakes with chopped fresh basil, and cilantro, soy, five-spice powder, cayenne pepper, salt, and pepper, in crispy Japanese panko bread crumbs crust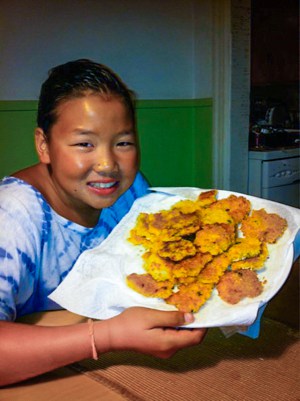 Sweet tries
5. Dara's Everything In It Cookies – with oatmeal, chocolate chips, flaked coconut, dried cranberries, cherries, blueberries, and currants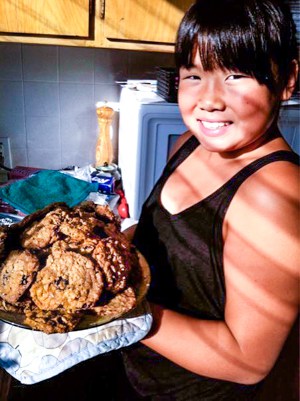 6. Chocolate BonBons with crunchy caramelized almond and coconut filling surrounded by the creamy Valrhona dark chocolate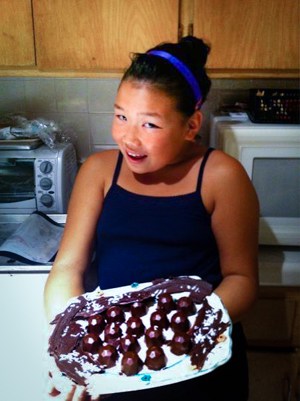 7. Thinly sliced Ciliegini (baby mozzarella balls), baby cherry tomatoes, and basil. Salt, Pepper, Balsamic, and EVOO.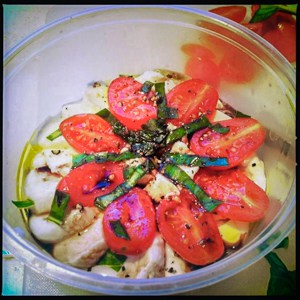 8. Calamari rings with no recipe for the coating, just freeform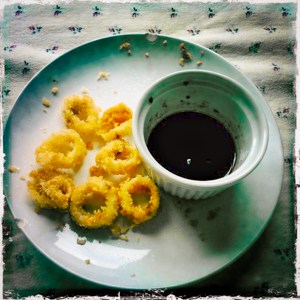 So, by this time, I figured I had a food prodigy who was going to make me very fat! Plus, there was an added bonus that I wouldn't have to cook for the family anymore. Do you have a food-loving, cooking child that just can't wait to be in the kitchen in front of the stove, or oven and is dying to be on MasterChef Junior? Tell me about him/her in the comments below. We would love to hear how you support their love of food!
Follow along with the journey and find out How to Audition for MasterChef Junior in this blog post: https://www.thisisyu.com/2019/12/08/how-to-audition-for-masterchef-junior/