Shantal's Banana Chia Seed Pudding
Shantal Der Boghosian discusses her delicious Banana Chia Seed Pudding on the This Is Yu Podcast Episode 14. Click here to listen.  Shantal is a talented baker, making large scale extremely detailed cakes. She's made full scale Harry Potter and Daft Punk cakes which we talk about during the interview.  Check out her Amazing Harry Potter cake here.
The Video - Check out my Method
In the video above see my method for making this delicious pudding.  I love making this for breakfast, leaving it overnight in the refrigerator, all ready to dig into in the morning. It's also a great late night snack, or whenever you want a healthy bite! Check out the healthy reasons below to eat Banana Chia Seed Pudding!
Chia Seeds Deliver a Massive Amount of Nutrients With Very Few Calories. …
Chia Seeds Are Loaded With Antioxidants. …
Almost All the Carbs in Them Are Fiber. …
Chia Seeds Are High in Quality Protein. …
The High Fiber and Protein Content in Chia Seeds May Help You Lose Weight. …
Chia Seeds Are High in Omega-3 Fatty Acids.
Make sure you grab a bunch of toppings for the family.  We love ours with fresh fruit, and homemade lemon curd.  Other suggestions: try mini chocolate chips, nuts, or coconut.  Add texture and make the pudding extra specia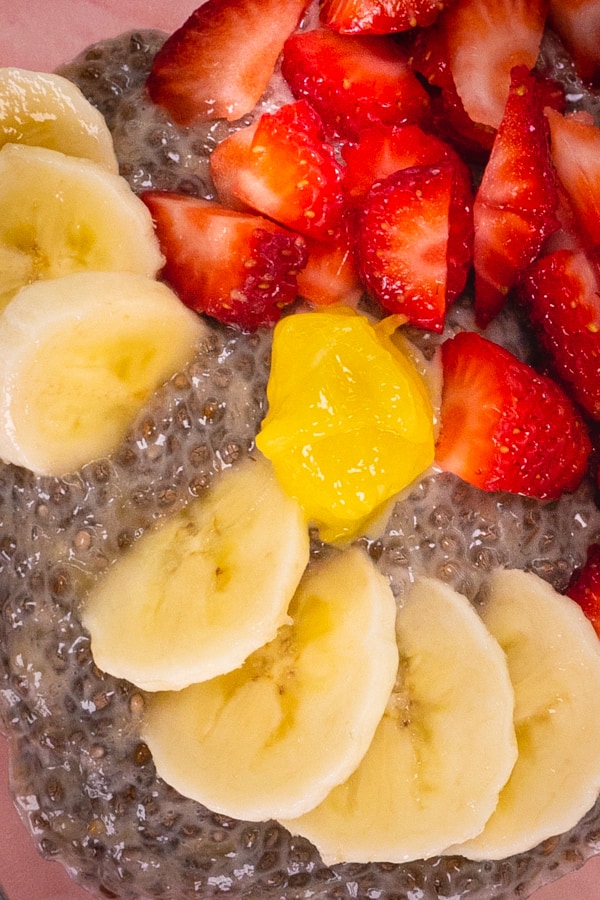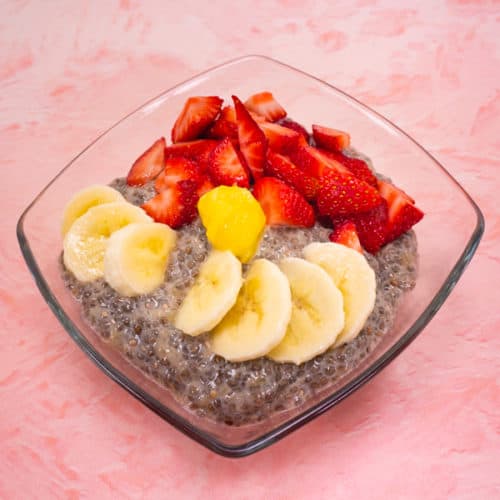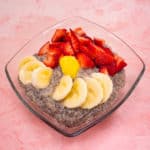 Print Recipe
Banana Chia Seed Pudding
Banana Chia Seed Pudding is an easy make ahead breakfast or snack with healthy benefits.
Equipment
jar or container

spoon or whisk
Ingredients
Ingredients
2

bananas

peeled

½

cup

chia seeds

2

cups

milk

(any type... I use plant based because they have lower calories)

sugar, agave, honey, maple syrup

as desired
Instructions
Mash up the bananas until they're a gooey, sloppy mess! It's important to get to this stage because it means you've broken the starch in the banana and released the sugar. MmmMMmm! I like to break the banana into chunks to make the mashing easier. Place the mashed banana into a jar (glass jar preferable, but if you have plastic, that's fine. Just make sure it's a wide mouth so you can clean it later!)

Add 1/2 cup chia seeds. Yup, that's right, straight onto the bananas. What, you thought this was complicated or something?

MIX AGGRESSIVELY! Rough day? Hate quarantine?? Take out your anger on that pudding! Seriously though, in order to release the gelatinous chemistry of the chia seed, you need to rough it up. Mix for 30 seconds to 1 minute.

Put lid on jar, place in refrigerator for 30 minutes. Remove, and aggressively mix once again.

Place in refrigerator for minimum of 6 hours and enjoy!!!!!!!!

Add Sweetener as desired.
Get your Nutrition Facts here!