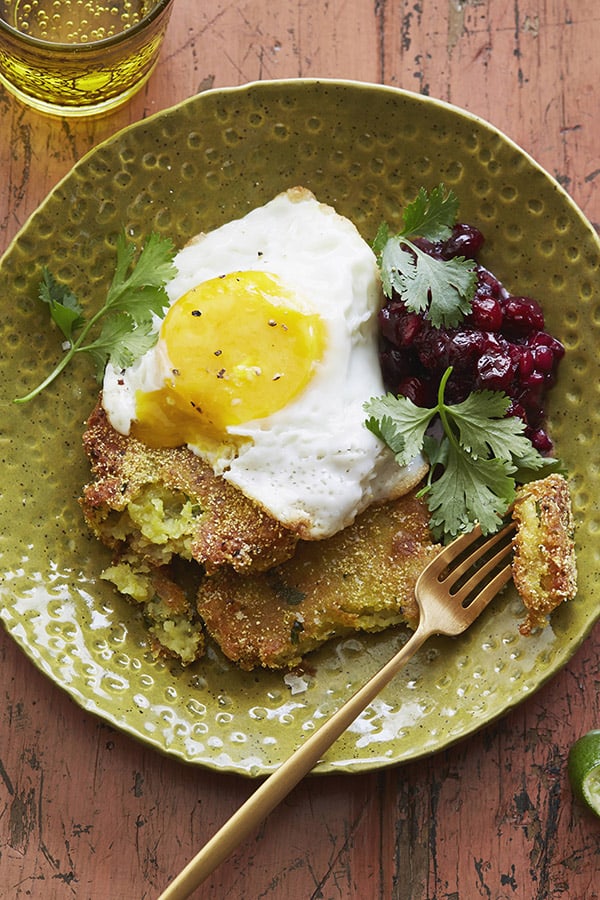 Aarti Sequeira on This Is Yu Podcast
This recipe came about after Bren and I hosted our first Thanksgiving around a real honest-to-goodness dinner table. We felt like real grown-ups. Until then, we'd had to balance dishes of food on the coffee table, kitchen counters and even the TV!
Our friend Karen, a big fan of mashed potatoes, made enough to feed all the Pilgrims, and so I came up with this Aloo Tikki Eggs Benny recipe the next morning to help us make a dent in them. I served them with the Ruby Red Chutney I'd made out of cranberries the day before, but you can also serve it with a big dollop of ketchup and the hot sauce of your choice.
Indian Potato Cake Benedict Recipe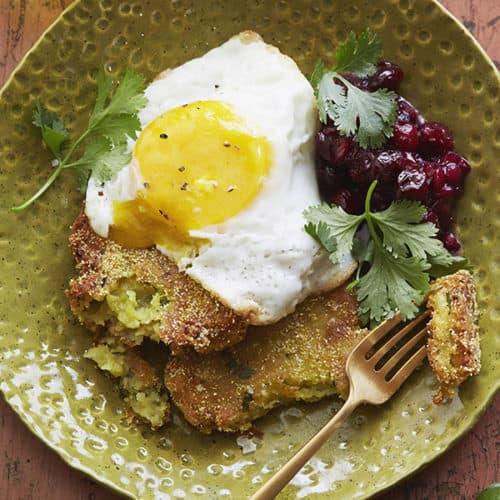 Print Recipe
Aloo Tikki Eggs Benny
Aarti Sequeira's Aloo Tikki Eggs Benny Recipe
Equipment
Medium Pot

Large Pot

Potato Masher or Ricer

Serving Dishes

Large Saucepan for Frying

Large Frypan
Ingredients
Aloo Tikki Potato Ingredients
1½

lbs

russet potatoes

peeled and cut into 1" cubes

3

inch

piece of ginger

peeled and grated

2

small

Serrano peppers

seeds removed and minced

¼

cup

cilantro leaves and soft stems

roughly chopped, additional for garnish

2

tsp

ground cumin

½

tsp

turmeric

zest

2

small limes

2

tbsp

lime juice

about one lime squeezed

2

tsp

kosher salt

freshly

ground

pepper

¼

cup

cornstarch

sunflower

oil

for frying
Instructions
Cook The Potatoes
Drop potato cubes into medium saucepan and cover with lots of cold water. Season generously with salt and bring to a boil. Turn down to a simmer and cook for ten minutes until potatoes are very tender. Drain in a colander, and allow to cool until you can handle with your bare hands.

Once cool, mash potatoes either with a potato ricer, food mill or as a last resort, a masher (the latter results in a heavier potato cake) into a large bowl.
Forming The Patties
Gently fold in remaining ingredients except for cornmeal. Taste for seasoning, and add extra salt and pepper as necessary. Divide into 8 portions, about 1/3 cup each. Roll a portion between your palms into a ball, then squash into a little cake of equal thickness (about ¾" thick). Repeat with the rest of the portions.
Cornmeal Crust
Pour cornmeal into a flat bowl or pie plate, and season well with salt and pepper. Dip each cake into cornmeal, coating each side evenly. Chill cakes for 10 to 15 minutes to firm up.
Fry The Patties
Preheat oven to 200 degrees Fahrenheit. Place a rack on a paper towel-lined baking sheet and set aside. Place a large nonstick skillet over medium-high heat, pour oil to a ¼" depth.

When oil is hot (check by dropping a pinch of cornmeal into oil; if it sizzles immediately, it's ready), carefully add 4 cakes to the pan. Cook until deep golden brown, about 4-5 minutes, then flip carefully (I'll sometimes use two spatulas for this job), and cook another 4-5 minutes. Remove, using fish spatula to the baking sheet, sprinkle with salt and slide into the oven to keep warm. Scoop out and any crumbs from the oil and repeat with the remaining 4 cakes.
Egg Preparation
To fry eggs: pour off oil, and wipe out skillet. Turn heat to low. Add a tablespoon of oil, swirl around pan and then add eggs. They should crackle gently. Season with salt and pepper, then cover, cooking 3 minutes for that perfect spot between runny and firm.
Plate the Dish
Serve an egg over two tikkis (cakes), with a squeeze of lime, a flourish of cilantro and a couple of dollops of ruby red chutney or tamarind chutney.
Nutrition