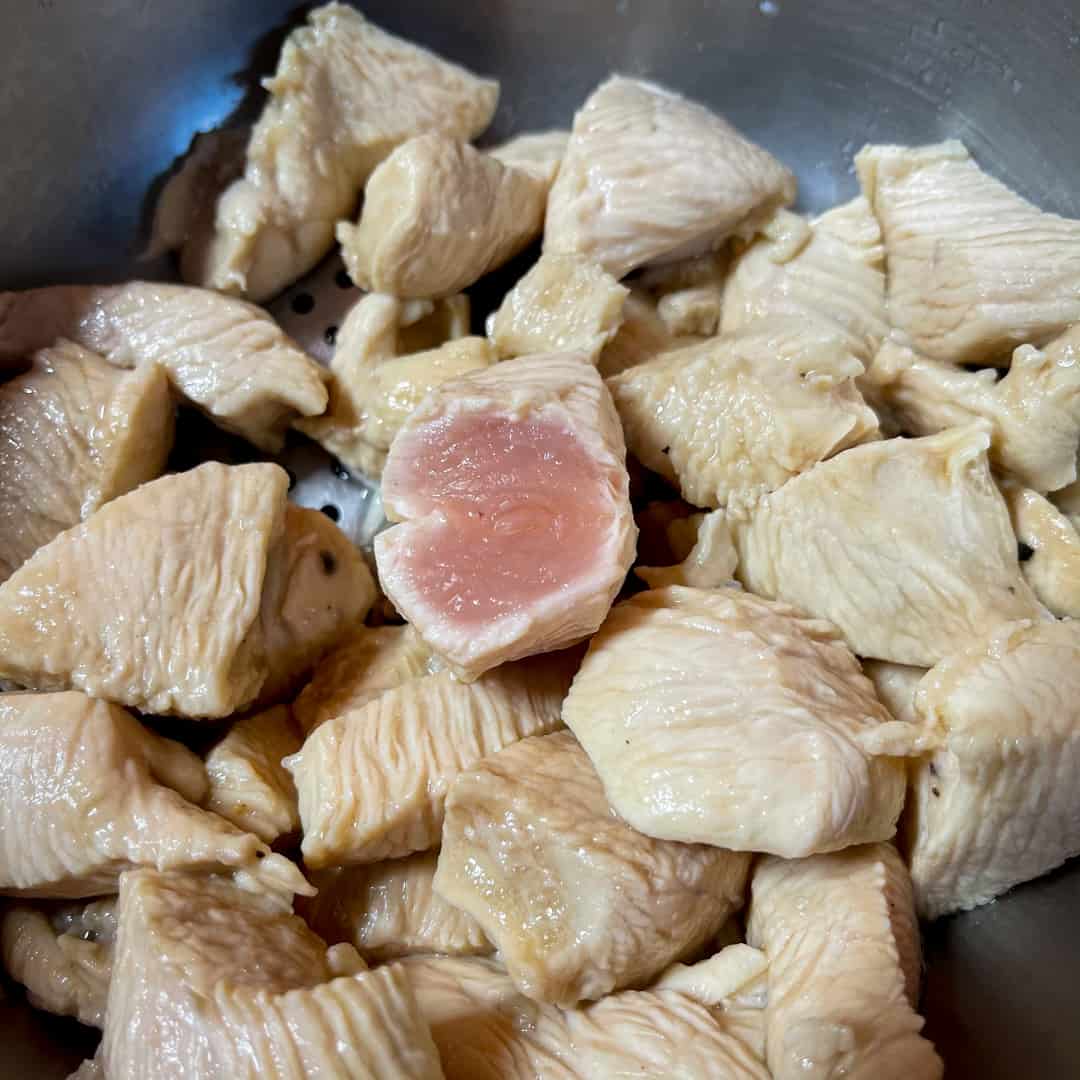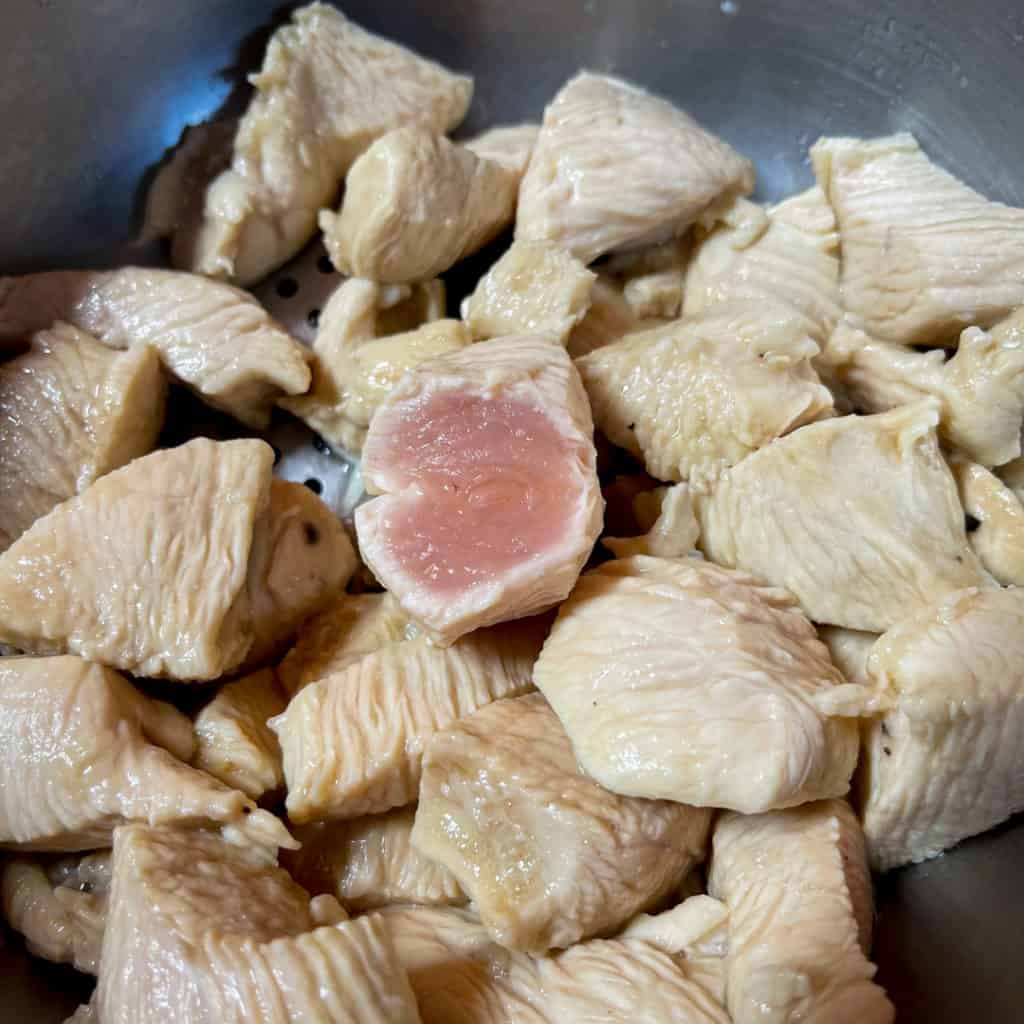 The Method for Velvet Chicken
When I was a child growing up in South Bend, Indiana my mother, Nellie, taught cooking out of our home.  Every Tuesday evening, my dad would take my two younger sisters and me to Burger Chef, while my mom would teach the basics of Chinese Cooking to 8-10 students.  While we were enjoying our "special night out," mom would teach her basic recipes such as this classic way to velvet chicken to be stir-fried.
Why You Should Velvet Chicken
What's your biggest pet peeve when it comes to food? Mine is chicken that's served overcooked, or dry.  So, I was taught this trick for Velvet Chicken by my mom as a quick way to keep chicken tender for stir-frying.  Remember to make sure you don't overcook the chicken in this prep step because you will be stir-frying the meat again with the veggies.
Well, you ask, why should I add another step to prepare this chicken, before I have to stir fry it again?  Once you make this recipe a few times, you'll find that it only takes a few minutes, and the succulent tenderness will be worth the extra time. I promise you!
YOUR CHOICE! Velvet Chicken in Water or Oil
Velvet Chicken can be done in Water or Oil.  For ease of cleanup, and speed, I almost always use water.  But, when I want to have some chicken kicked up a notch, I like the fact that the oil method gives the meat a firmer texture, but still juicy!
Cut the chicken into even pieces.  The shape depends on the shape of the veggies that you are going to use.  For stir-frying, all components need to be even, so that the cook is consistent! The majority of the time, I cut the chicken into 1″ chunks, because most of the time, I'm pairing it with red peppers, broccoli, and onions. If I am using green beans, or carrots, or celery, I'll cut the meat into long and thin pieces about 1/2″ thick and 2″ long.
Add the seasonings to the meat, making sure they are thoroughly mixed in after each step. First, salt and sherry are added for taste.  Then, egg white and cornstarch provides the fluffy coating around the meat. Finally, the oil provides a smoothness to all.
Make sure you whip it good, you wouldn't want a lumpy coating.
When the water boils, add the chicken. Stir to separate the pieces, until the coating just turns white. It should only take about 35-45 seconds! Be quick!  Then, strain it all, or use a spider to transfer the meat to your strainer.
The chicken should still be pink in the middle, making it perfect for finishing in your stir-fry.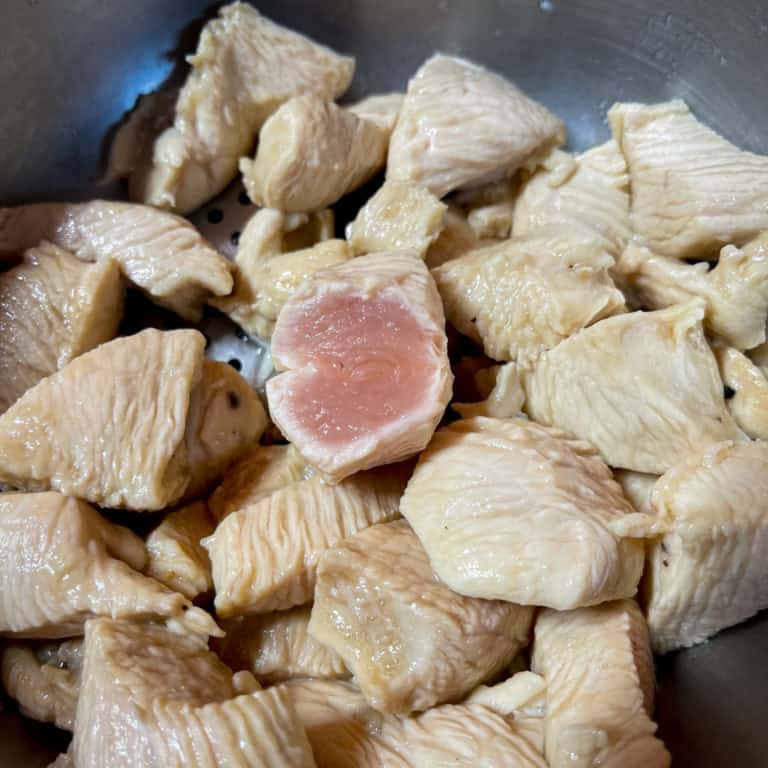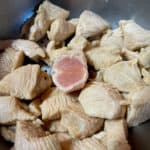 Print Recipe
Velvet Chicken
How to prepare juicy and tender chicken pieces for your stir-fry
Equipment
Cutting Board

Chef's Knife

Medium Mixing Bowl

Small Mixing bowl

Medium Pot or Wok

Spider/Strainer
Ingredients
1

pound

boneless and skinless chicken pieces

Thighs or Breasts

1/2

tsp

salt

1

tbsp

dry sherry

1

egg white

1

tbsp

cornstarch

1

tbsp

oil
Instructions
Seasoning The Chicken
Cut Chicken into 1" cubes, making each piece as uniform as possible.

Put chicken into a bowl, add the salt and sherry, and stir.

Beat the egg white in a small bowl until the gel of the egg is broken.

Add the egg white to the chicken, sprinkle in the cornstarch and mix well.

Add the tbsp of oil and put in the refrigerator for at least 30 minutes so the coating can adhere to the chicken.
Velveting in Water
Bring 1 quart of water to a boil in a medium pot, and add 1 tbsp oil to "grease the liquid". Lower the heat to maintain a very gentle simmer.

Scatter in the chicken, stir to separate, and keep stirring very gently until the coating just turns white. The chicken pieces will still be pink inside, as they will be used in a stir-fry to complete the cooking. DO NOT EAT THE MEAT UNTIL IT IS COMPLETELY COOKED AFTER STIR-FRYING. Then, immediately pour into a strainer to drain. Your chicken is ready to be sir-fried.

The "velveting" will give the chicken a white and fluffy coating and the meat will be as soft as velvet.
Velveting in Oil
Velveting in oil makes the coating lustrous and prevents lumping. It also eliminates the mealiness of cornstarch. Make sure the wok or skillet is very hot before the oil goes in, so that the coated chicken does not stick to the pan. However, the oil should not be hot, or it will toughen the chicken.

Make sure you have everything assembled, because the meat cooks very quickly. Gather your wok, or deep pan on the stove, put your strainer over a small pot, and a pair of chopstickes, wooden spoon, spider, or spatula. SMART TIP- Don't use sharp tools such as a fork for turning the meat in the oil, because this could cause the oil to splatter.

Heat the wok or pot over high heat until very hot. Then, turn the heat to medium, add 2 cups of oil and heat for only 40 seconds until it is warm, about 275 degrees, or until it foams a cube of bread very slowly.

Give the coated chicken a big stir and scatter in the pieces quickly but gently stir them to separate them. The oil should cover every piece.

Lower the heat immediately if the chicken begins to sizzle; hot oil will make the velvet chicken hard and yellow.

When the meat turns white, in only about 30 to 45 seconds, immediately pour both the chicken and oil into a strainer, reserving the oil. Or, take the chicken out with a spider into your strainer.

The chicken pieces will still be pink inside, as they will be used in a stir-fry to complete the cooking. DO NOT EAT THE MEAT UNTIL IT IS COMPLETELY COOKED AFTER STIR-FRYING