WonTons with Spicy Chili Oil Sauce
This WonTons with Spicy Chili Oil Sauce is one of my favorite Chinese Restaurant Dim Sum dishes. And now it can be one of yours too!
The spice mixture contains Sichuan Peppercorns which provide a pleasurable slight tongue numbing experience in comparison to the chili spice you are accustomed to with chili flakes and other chili sauces you can get in regular grocery stores.
In the last year, since Covid lockdown, Chinese Chili Oil Sauce has reached cult status, many restaurants now produce and sell their own versions of chili oil sauce. It is also known as Chili Crisp Sauce.
In the video, I first make the Chili Oil Sauce, and then show you how to fold the wontons step by step with different views from all sides. Let me know if you have any questions. I'm happy to answer!
SHIFFLETS/SIFFLETS!!
Links to other recipes mentioned in the video
Let me know in the comments below or in the comments on the Youtube episode what you think of the recipe and the set!
I'd love to see your dishes, when you make them!  Post on Instagram, and tag with #YuCanCook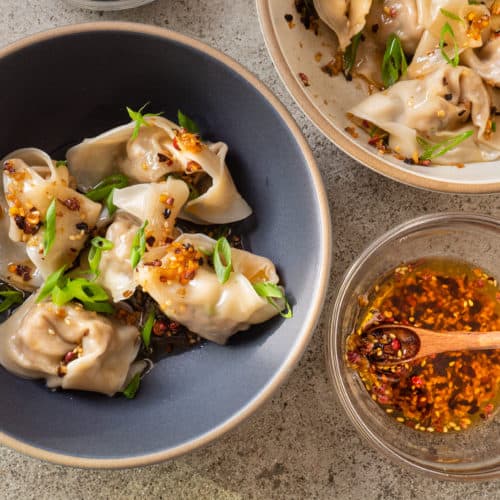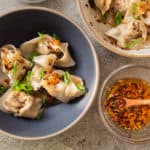 Print Recipe
WonTons with Spicy Chili Oil Sauce - Yu Can Cook
Make this Chinese Wonton Recipe Favorite
Servings:
10
servings (5 wontons/serving)
Equipment
small skillet

Mortar and Pestle

Wooden Spoon

heatproof bowl

Medium Bowl

whisk

airtight container for Chili Oil Sauce

Medium Bowl

chopsticks

small bowl

2 kitchen towels

baking tray

small spoon

large pot for boiling wontons

serving bowls

dip bowl w/ serving spoon

chopsticks

knife
Ingredients
Chili Oil Sauce
1

tbsp

sesame oil

1

tbsp

rice vinegar

1

tbsp

ShaoXing Wine

or dry sherry

1

tbsp

soy sauce

(I use Kikkoman Low Sodium Soy Sauce)

½

tsp

granulated sugar

1

tbsp

garlic

minced (about 3 garlic cloves finely chopped)

1

tbsp

ginger

minced (about 1-inch piece fresh ginger, peeled and finely chopped)
WonTon Filling
8

oz

ground pork

or ground chicken

8

oz

shrimp

peeled, deveined, and chopped

6

medium

dried shiitake mushrooms

rehydrated and finely chopped (about 1/2 cup)

⅓

cup

water chestnuts

finely chopped

¼

cup

green onions

finely chopped, white and green parts (about 4 stalks)

1

tsp

ginger

peeled and minced

1

tsp

salt

½

tsp

granulated sugar

½

tsp

pepper

4

tsp

soy sauce

2

tsp

cornstarch

½

tsp

sesame oil

1

tsp

ShaoXing wine

or dry sherry

1

pkg

Wonton Wrappers

yield will be based on number in package

3

tbsp

mushroom water / chicken stock / water

as needed
Garnish
2

scallions

trimmed and thinly sliced into sifflets for garnish
Instructions
Make the Chili OIl
Toast the red pepper flakes, Sichuan peppercorns and sesame seeds in a dry skillet over medium heat until fragrant, toasted, and lightly browned, about 2 to 4 minutes.

Transfer the spices to a mortar and grind with a pestle until the peppercorns are a coarse powder, and most of the sesame seeds are crushed. Leave a quarter of them whole.

Transfer the ground spices to a heatproof bowl.

Heat the vegetable oil in a small skillet over medium heat until shimmering, hot and slightly smoking. Immediately pour over the chili peppercorn mixture.

After the sizzling dies down, let the mixture cool down for 10 minutes or more until room temperature.
Make the Chili Oil Sauce
Combine the sesame oil, rice vinegar, Shaoxing wine, soy sauce, sugar, garlic and ginger in a medium bowl and whisk until the sugar completely dissolves. Add to the cooled chili oil, stir and set aside until ready to use.
Prepare the Filling
Put all the ingredients in a medium bowl and mix well. Stir in a circular motion until mixture is all incorporated, and has come together

If the meat mixture is too solid, add the mushroom stock 1 tbsp at a time, to loosen up the mixture and make it softer.
Assemble the WonTons
Fill a small bowl with water. Prepare a kitchen towel for wiping your fingers. Have your filling ready, with a parchment lined tray and damp towel to cover the wonton wrappers so they don't dry out.

Hold a wrapper in your left (or non-dominant) hand. Place 1-2 teaspoons of filling in the middle, leaving a ½ inch border on all sides. Dip your finger in the water, and run it around the edges of the wrapper. Lift and fold one corner of the wonton wrapper over the filling, meeting the opposite corner to form a triangle.

Press the air out while you seal the edges. This will ensure the meat doesn't fall out when boiling.

Dab one of the lower corners with water, and fold over to reach the other lower corner. Cross them in a hug. Pinch firmly so they stay sealed.
Cooking the WonTons
Bring a large pot of water to boil over high heat. Work in batches to prevent overcrowding. Cook the wontons until they float to the surface. This should take about 4-6 minutes. Take one out, and cut it to ensure the meat is thoroughly cooked. It should reach a temperature of 160 degreed. Remove with a slotted spoon.

Divide the wontons among serving bowls or a communal bowl. Drizzle with the Chili Oil Sauce and garnish with scallions.
Notes
The Chili Oil Sauce can be made ahead and refrigerated in a sealed container for a few weeks. If preparing the Wontons in advance, you can cover and refrigerate them for a few hours. Wontons can be frozen for future consumption, after folding, and before boiling.  Put the entire sheet tray of wontons into the freezer.  This step needs to be done so that the wontons don't stick together into one large lump.  When the wontons are frozen, then transfer them to a resealable plastic bag, or sealed container.  They can be frozen for up to two months.  You can boil them directly from the freezer, just add a few minutes to the cooking time.  When they rise to the surface, cut one open to ensure it is cooked before eating!  ENJOY!
Nutrition