Have you wondered why shrimp at Chinese Restaurants is so delicious and tender? Today, you'll find out how to mimic this Chinese technique for making the best shrimp you'll ever have! And I'm super not kidding!
Welcome to our comprehensive guide on the art of velveting shrimp, where we'll explore the techniques, tips, and frequently asked questions to help you perfect this cooking method. Chinese restaurants use this method before they include the shrimp in their stir-fry dishes. Even though it may take a little longer, velveting shrimp will result in tender, and succulent shrimp with a silky texture. Whether you're a seasoned chef or an aspiring home cook, this guide will give you all the knowledge you need to become a velveting shrimp pro.
What You'll Need for Velveting Shrimp:
 shrimp, peeled and deveined (I like to leave the tails on because to tell the truth, I like to bite through the tail, and let the shrimp slide out). But, if you're serving to kids or just want to de-tail, just take them off.
 cornstarch (not to be confused with cornflour – been there, done that, wouldn't recommend)
 vegetable oil 
egg white (perfect chance to practice your egg cracking skills)
Shaoxing wine (or dry sherry if you've raided your grandparent's liquor cabinet)
salt (cause it's good to have a little saltiness in your life!)
Now, let's get to the nitty-gritty of velveting shrimp. Follow these steps and you'll have succulent little morsels of shrimp that are to die for! I'm serious!
PREFER TO WATCH INSTEAD OF READ?
HOW TO MAKE VELVET SHRIMP
First, find a bowl and stir together your cornstarch, oil, egg white, Shaoxing wine, and salt. This is your marinade, your shrimp spa treatment.

Then, gently mix your shrimp into the marinade, ensuring each shrimp gets its fair share of pampering. Let them soak for 30 minutes to an hour in the refrigerator.

While your shrimp are soaking up the goodness, bring a large pot of water to a boil. Once it's boiling, turn down the heat until it's merely simmering.

Now, introduce your marinated shrimp to the simmering water. Stir gently, to keep all the shrimp from clumping together.

After about a minute, once your shrimp have turned opaque (but not a moment longer!), rescue them from their hot tub.

Finally, drain and give them a cool rinse. This stops the cooking process faster.
When velveting shrimp, be sure to use raw shrimp rather than cooked shrimp.  Cooked shrimp will become overcooked and rubbery during the velveting process.  Totally the opposite of what we're going for here!
You can use the velveting technique with other proteins, like chicken, beef, or even tofu.  Just be sure to adjust the cooking time accordingly.    Here's the link to my blog post on velveting chicken!
The velveting technique can also be done using hot oil instead of boiling water. Heat about 1 1/2 inches of oil in a wok or deep pan until shimmering, then gently lower the shrimp into the hot oil and cook until just pink.  If you plan to include these in a stir fry, these shrimp can still be slightly raw in the middle. Drain on paper towels before using in your stir-fry dish.
FREQUENTLY ASKED QUESTIONS (FAQS)
Q:  Can I use frozen shrimp for this recipe?
A:  Yes, you can use frozen shrimp.  Just make sure to thaw them completely before starting the velveting process, as any excess moisture will affect the texture and cooking time.  ( I almost always use frozen shrimp because of the cost.  I submerge the frozen bag of shrimp in a very hot bowl of water, with a weight on top of the bag. Sometimes I'll put another bowl on top and weight it with a mug or other heavy item to keep the bag in the water.)
Q:  How long should I marinate the shrimp in the cornstarch mixture?
A:  I recommend marinating the shrimp for at least 20 minutes to allow the cornstarch mixture to fully coat the shrimp.  You can marinate them for a few hours for an even more tender and velvety texture.
Q:  Can I make Velvet Shrimp ahead of time and reheat them later?
A:  Yes, this is the purpose of velveting shrimp, so that it can be used in a stir-fry later to complete the cooking of the shrimp.  You can store the parboiled shrimp in an airtight container in the refrigerator for up to 2 days before you stir-fry them.
Q:  What dishes can I use Velvet Shrimp in?
A:  Velvet Shrimp is a versatile ingredient that can be added to various dishes, such as stir-fries, pasta, salads, or even served over rice with a flavorful sauce.  The silky texture of the shrimp elevates any dish it's added to. In those cases when you are not stir-frying it shrimp after parboil, make sure the shrimp is fully cooked inside.  It really does not take long to cook shrimp, and it can be eaten raw, so don't overdo it, or you'll have some rubbery shrimp on your hands.
Q:  Why do I need to use cornstarch for the velveting technique?
A:  Cornstarch helps create a protective coating around the shrimp, sealing in moisture and ensuring a tender, velvety texture when cooked.  The cornstarch mixture also helps the shrimp cook more evenly, preventing overcooking and rubberiness.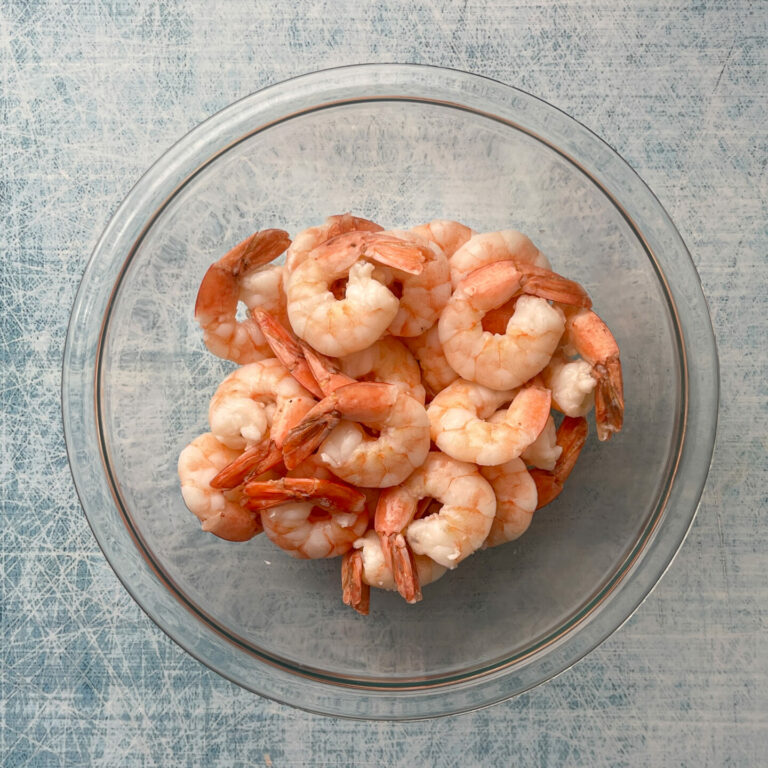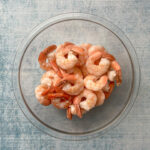 Print Recipe
Velvet Shrimp
There's a little secret in the culinary world called "velveting." It's the reason why the shrimp in your favorite Chinese restaurant dishes are so incredibly tender and succulent. Today, we're going to pull back the curtain and teach you how to velvet shrimp at home!
Equipment
Instructions
To start off, combine the cornstarch, oil, egg white, Shaoxing wine, and salt in a mixing bowl. This forms your marinade.

Add your shrimp to the bowl, and gently mix until all the shrimp are coated with the marinade. Let this sit in the refrigerator for 30 minutes to an hour.

Bring a large pot of water to a boil. Once boiling, reduce the heat until the water is at a simmer.

Add the marinated shrimp to the simmering water. Stir gently to prevent the shrimp from sticking together.

Cook the shrimp until they just turn opaque, usually about 1 minute. Be careful not to overcook them! (They can be slightly undercooked, because you will use them in a stir-fry where they will complete their cooking!)

Drain the shrimp immediately and rinse under cold water to stop the cooking process.

Now your shrimp are velveted and ready to use in your favorite stir-fry recipe!