The Method for Velvet Chicken
When I was a child growing up in South Bend, Indiana my mother, Nellie, taught cooking out of our home.  Every Tuesday evening, my dad would take my two younger sisters and me to Burger Chef, while my mom would teach the basics of Chinese Cooking to 8-10 students.  While we were enjoying our "special night out," mom taught her basic recipes such as this classic way to velvet chicken to be stir-fried.
PREFER TO WATCH INSTEAD OF READ?
Why You Should Velvet Chicken
Are you tired of overcooked or dry chicken in your stir-fries? Look no further! My mom taught me this amazing trick for velveting chicken, ensuring it stays tender and juicy even after stir-frying. Don't worry about the extra step; once you try it, you'll realize it takes only a few minutes, and the irresistible tenderness is absolutely worth it. Trust me!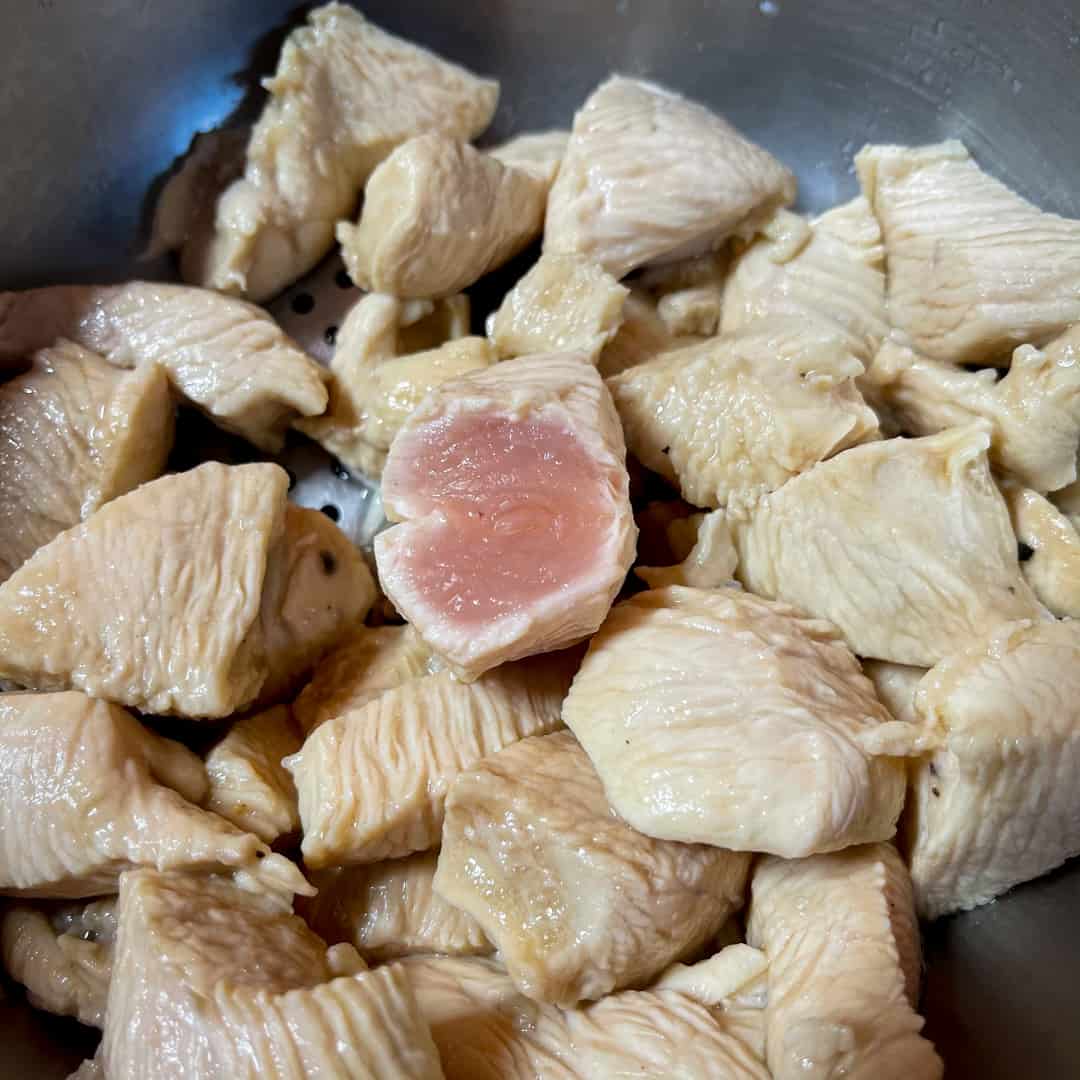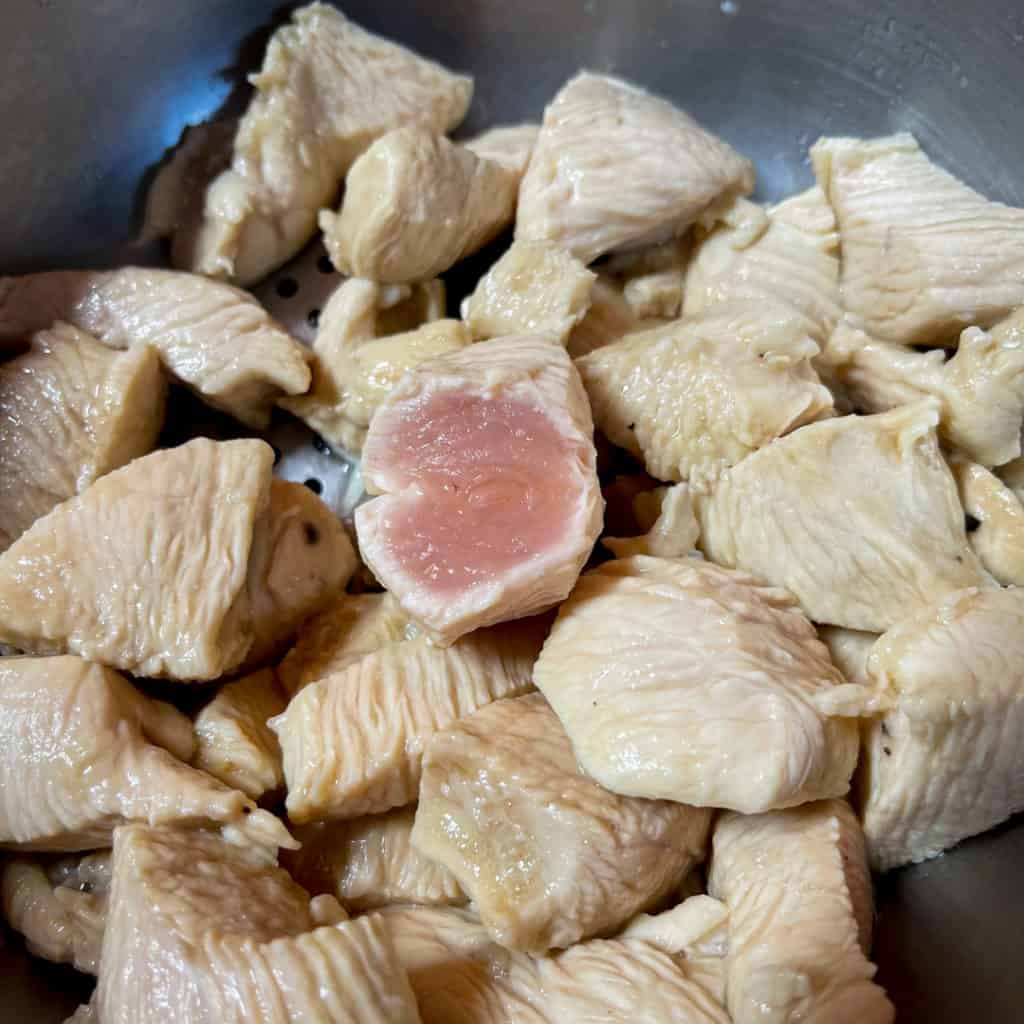 YOUR CHOICE! Velvet Chicken in Water or Oil
Prepare Velvet chicken  using either water or oil. For convenience and quicker cleanup, I usually opt for the water method. However, if you're looking to elevate the texture of your chicken and add a touch of richness, the oil method is perfect. It provides a firm yet juicy result that you'll love.
Preparing the Chicken for Velveting
To start, ensure the chicken is cut into uniform pieces. The shape of the chicken should match the vegetables you plan to use in your stir-fry. For most stir-fries, I recommend cutting the chicken into 1″ chunks, which pairs well with red peppers, broccoli, and onions. If you're using green beans, carrots, or celery, opt for long and thin pieces, about 1/2″ thick and 2″ long. (Check out the Video here, and you'll see I cut the chicken into long pieces)
Ingredients for Velvet Chicken
Before velveting, season the chicken for maximum flavor. In a bowl, combine the chicken with salt and sherry, ensuring the seasonings are well-distributed. Next, add egg white and cornstarch to create a fluffy coating around the meat. Finally, incorporate oil for a smooth and flavorful finish.
Make sure you whip it good, you wouldn't want a lumpy coating.
To velvet chicken using the water method, bring 1 quart of water to a boil in a medium pot. Add 1 tbsp of oil to "grease the liquid" and maintain a gentle simmer. Carefully add the chicken to the pot, stirring gently to separate the pieces. Continue stirring until the coating just turns white, which should take about 35-45 seconds. Remember, the chicken should still be pink inside, as it will finish cooking during the stir-fry. Drain the chicken using a strainer or spider, and it's ready to be used in your dish.
For a lustrous and lump-free coating, velveting in oil is the way to go. Ensure your wok or skillet is hot before adding the oil to prevent sticking. However, be cautious not to make the oil too hot, as it can toughen the chicken. Heat the wok or pot over high heat until very hot, then reduce the heat to medium. Add 2 cups of oil and heat for about 40 seconds, or until it reaches around 275 degrees Fahrenheit and forms small bubbles when a cube of bread is dropped in slowly.
Once the oil is ready, give the coated chicken a good stir and quickly add the pieces to the wok, gently separating them. The oil should cover every piece. Lower the heat if the chicken starts sizzling to prevent overcooking. Within 30 to 45 seconds, the chicken will turn white, indicating it's velveted. Immediately pour both the chicken and oil into a strainer, reserving the oil, or use a spider to transfer the chicken to a strainer. Remember, the chicken will still be pink inside as it will finish cooking during the stir-fry. Do not consume the meat until it is completely cooked after stir-frying.
Velvet Chicken is now ready to use in Stir-Fries!
With your velveted chicken ready, you're all set to create mouthwatering stir-fry dishes. Enjoy the tender and juicy goodness of velvet chicken in your next Asian-inspired meal!
Remember to experiment with different vegetables and sauces to create unique flavor combinations. Whether you choose the water or oil method, velveting the chicken will elevate your stir-fries to new heights of deliciousness..
Velvet chicken is a technique commonly used in Chinese cooking to ensure tender and moist meat in stir-fries.
The velveting process creates a protective coating around the chicken, sealing in the juices and preventing overcooking.
You can use either boneless and skinless chicken thighs or chicken breasts for this recipe, depending on your preference. I prefer chicken thighs because I find them more juicy.
Experiment with different vegetables, sauces, and seasonings to create a variety of flavorful stir-fries using the velveted chicken.
Q: Can I velvet chicken in advance?
A: Yes, you can velvet the chicken ahead of time and store it in the refrigerator for up to 24 hours. When you're ready to cook, simply proceed with the stir-frying step.
Q: Can I freeze velveted chicken?
A: Freezing velveted chicken is not recommended, as the texture may change and become less desirable upon thawing. It's best to cook it immediately after velveting.
Q: Can I use the velveted chicken in other recipes besides stir-fries?
A: Absolutely! Once velveted, the chicken can be used in various dishes like salads, wraps, or even as a protein topping for noodles or rice bowls.
Q: Is velveting necessary for stir-fries?
A: Velveting is not mandatory for stir-fries, but it adds a delightful tenderness and juiciness to the meat. If you prefer a different texture or are short on time, you can skip the velveting step and proceed directly to stir-frying the chicken.
Remember, the key to successful velvet chicken is to maintain a gentle heat during the velveting process and avoid overcooking the meat. Enjoy the tender and flavorful results in your favorite stir-fry recipes!
Velvet Chicken Ingredient substitutions
Q: Can I velvet chicken using other proteins?
A: While this recipe specifically focuses on chicken, the velveting technique can be applied to other proteins like beef, pork, or shrimp. Check out my Shrimp Velvet blog post and video here. Adjust the cooking times accordingly based on the protein you choose.
Q: Can I use other oils for velveting?
A: The recipe suggests using vegetable oil, but you can also use other high-smoke-point oils like peanut oil or canola oil. Avoid oils with strong flavors, as they may overpower the dish.
Q: Can I velvet chicken without sherry?
A: Sherry is commonly used in traditional Chinese cooking to enhance flavor, but if you don't have it on hand, you can substitute with dry white wine or omit it altogether. The sherry adds a subtle richness to the dish.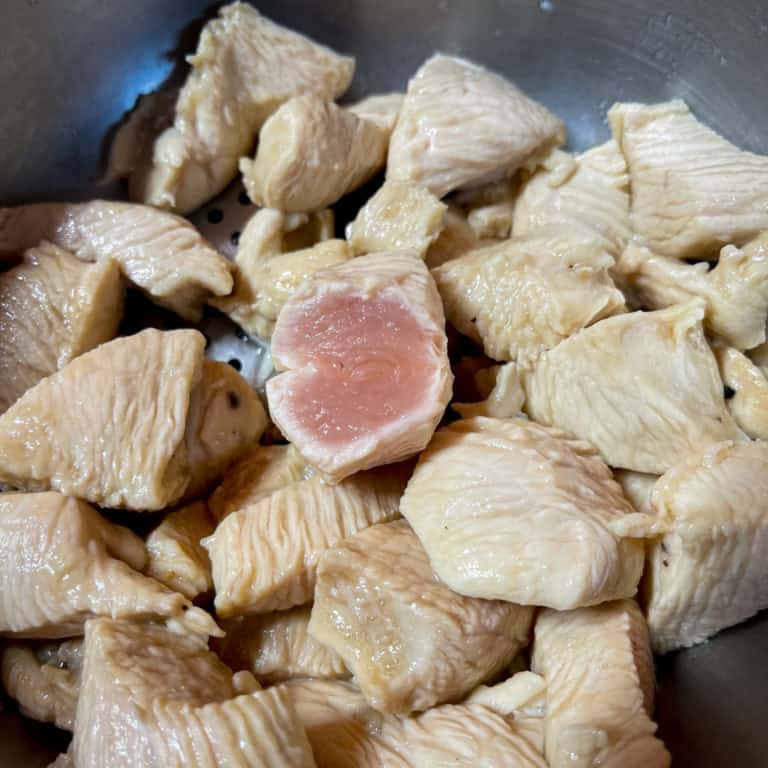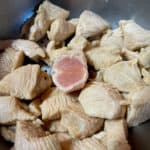 Print Recipe
Velvet Chicken
How to prepare juicy and tender chicken pieces for your stir-fry
Equipment
Medium Mixing Bowl

Small Mixing bowl
Ingredients
1

pound

boneless and skinless chicken pieces

Thighs or Breasts

1/2

tsp

salt

1

tbsp

dry sherry

1

egg white

1

tbsp

cornstarch

1

tbsp

oil
Instructions
Seasoning The Chicken
Cut Chicken into 1" cubes, making each piece as uniform as possible.

Place the chicken in a bowl and add salt and sherry. Stir to combine.

In a small bowl, beat the egg white until the gel breaks.

Add the beaten egg white to the chicken and sprinkle in the cornstarch. Mix well.

Finally, add the tablespoon of oil and refrigerate the chicken for at least 30 minutes to allow the coating to adhere.
Velveting in Water
Bring 1 quart of water to a boil in a medium pot and add 1 tablespoon of oil to the boiling water.

Reduce the heat to maintain a gentle simmer.

Add the chicken to the pot and stir gently to separate the pieces.

Stir until the coating turns white, approximately 35-45 seconds.

Immediately pour the chicken into a strainer to drain. The chicken will still be pink inside, as it will finish cooking during the stir-fry.
Velveting in Oil
Heat a wok or skillet over high heat until very hot.

Reduce the heat to medium and add 2 cups of oil. Heat the oil for about 40 seconds until warm but not too hot.

Give the coated chicken a quick and gentle stir, then add the chicken pieces to the hot oil. Stir to separate the chicken pieces and ensure they are evenly coated with the oil.

Lower the heat if the chicken starts sizzling too much.

When the chicken turns white, which takes around 30 to 45 seconds, immediately pour both the chicken and oil into a strainer, reserving the oil.