If you watched Season 6 of Masterchef in 2015, you would have been introduced to Hetal Vasavada. She is a whip smart scientist turned chef.  She is one of only two Masterchef contestants with a published cookbook, who were not winners on the show.  It's eponymous namesake comes from her website, Milk and Cardamom.  Click on her cookbook image to purchase. We talk to her about Indian desserts, the Sopranos, ways to use cardamom, some secret dirt about her season of Masterchef.   You can hear her on Episode 13 and check out her gorgeous recipe for Rangoli Eggless Cheesecake below.
Recipe for Rangoli Eggless Cheesecake
Kicking off my Holi recipes with this gorgeous eggless cheesecake with orange and fennel Parle-G crust!  I took inspiration from citrus season thandai for the crust flavor –  also it's my favorite ice cream flavor from Malai Ice Cream! I decorated the cheesecake with a fun rangoli design to make it look super festive as well. Made this cheesecake eggless since I've gotten TONS of requests for it. I used a combination of flour and cornstarch to help set the cheesecake. However, you can totally substitute that with 3 eggs in the recipe.
I baked the cheesecake in a water bath which helps prevent the cheesecake from cracking and browning too much, which would ruin the design. An important tip is to make sure your foil is on tight so that water doesn't seep into your springform pan and leave you with a gross soggy crust! Also, make sure to pull the cheesecake when the top is set but the center is slightly jiggly. It'll set up as it refrigerates.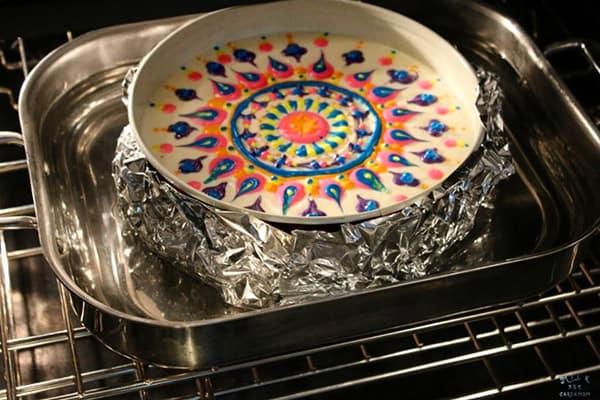 I used a slurry of cornstarch and flour to replace the eggs in the recipe. The flour and cornstarch molecule swell while cooking and help set the cheesecake.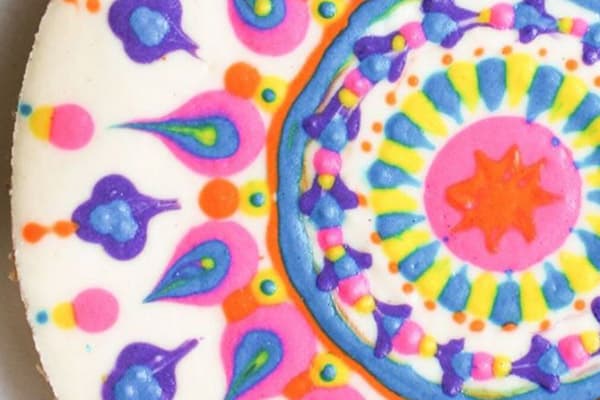 I used piping bags, toothpicks, and round cookie cutters to help create my design, but feel free to pipe and swirl the colors on top for a tie-dye effect, or pipe letters onto the cheesecake. The possibilities for decorating your eggless cheesecakes are endless! Be sure to tag me in your social posts if you make this eggless cheesecake! 
Rangoli Eggless Cheesecake by MasterChef Guest Blogger Hetal Vasavada
Eggless Cheesecake recipe with an orange and fennel crust. Makes a 9-inch cheesecake.
Equipment
9-inch springform pan

Medium Bowl

Stand Mixer

Small bowls

Toothpick

Aluminum Foil

Large Roasting Pan
Ingredients
Orange and Fennel Parle G Crust
2

cups

Parle G Biscuits

crushed into crumbs

¼

tsp

freshly ground fennel

1

tbsp

orange zest

2

tbsp

granulated sugar

½

cup

unsalted butter

melted
Eggless Cheesecake
3

8-oz packages

cream cheese

room temperature

1

cup

granulated sugar

1

tbsp

vanilla extract

½

cup

sour cream

½

cup

whipped cream

¼

tsp

salt

2

tbsp

cornstarch

1

tbsp

all purpose flour

¼

cup

milk

food coloring
Instructions
Orange and Fennel Parle G Cookie Crust
Grease and line a 9-inch springform pan with parchment paper. Set aside.

Mix together crushed Parle G crumbs, ground fennel, orange zest, and sugar. Add melted unsalted butter and mix until you have a sandy texture. Dump the crust into the pan and press it into an even layer onto the bottom and sides of the pan. Bake at 350° for 8 minutes and set aside to cool.
Eggless Cheesecake
In a stand mixer bowl with the paddle attachment, mix the cream cheese for 1 minute on high. Add sugar and mix on high for 3 minutes. Then add vanilla, sour cream, whipped cream, and salt. Mix for 2 minutes.

In a small bowl, whisk together cornstarch and all-purpose flour with milk until smooth. Add it to the cheesecake mixture and mix until well combined.

Add ¼ cup of the filling to 5 bowls and add your food coloring and mix well. Spoon into a sandwich bag or piping bag and snip off a small tip (or fit them with round piping tips.). Set aside. Pour the rest of the filling into the crust and spread into an even layer. Tap the pan onto the counter a couple of times to get rid of air bubbles and to smooth out the surface.

Pipe your rangoli design onto your cheesecake starting from the center. Use a toothpick to help drag the colored batter to make fluid designs. Use round cookie cutters to outline your circles so that your design is as round and even as possible.

Wrap the bottom of the pan with foil and place in a large roasting pan. Fill the pan up with boiling water and bake for 45-50 minutes, making sure the cheesecake doesn't brown too much. It's done when the center is slightly jiggly. Cool completely and then refrigerate for at least 4 hours before serving.