CHINESE ALMOND JELLY IS YOUR NEW DESSERT CRUSH!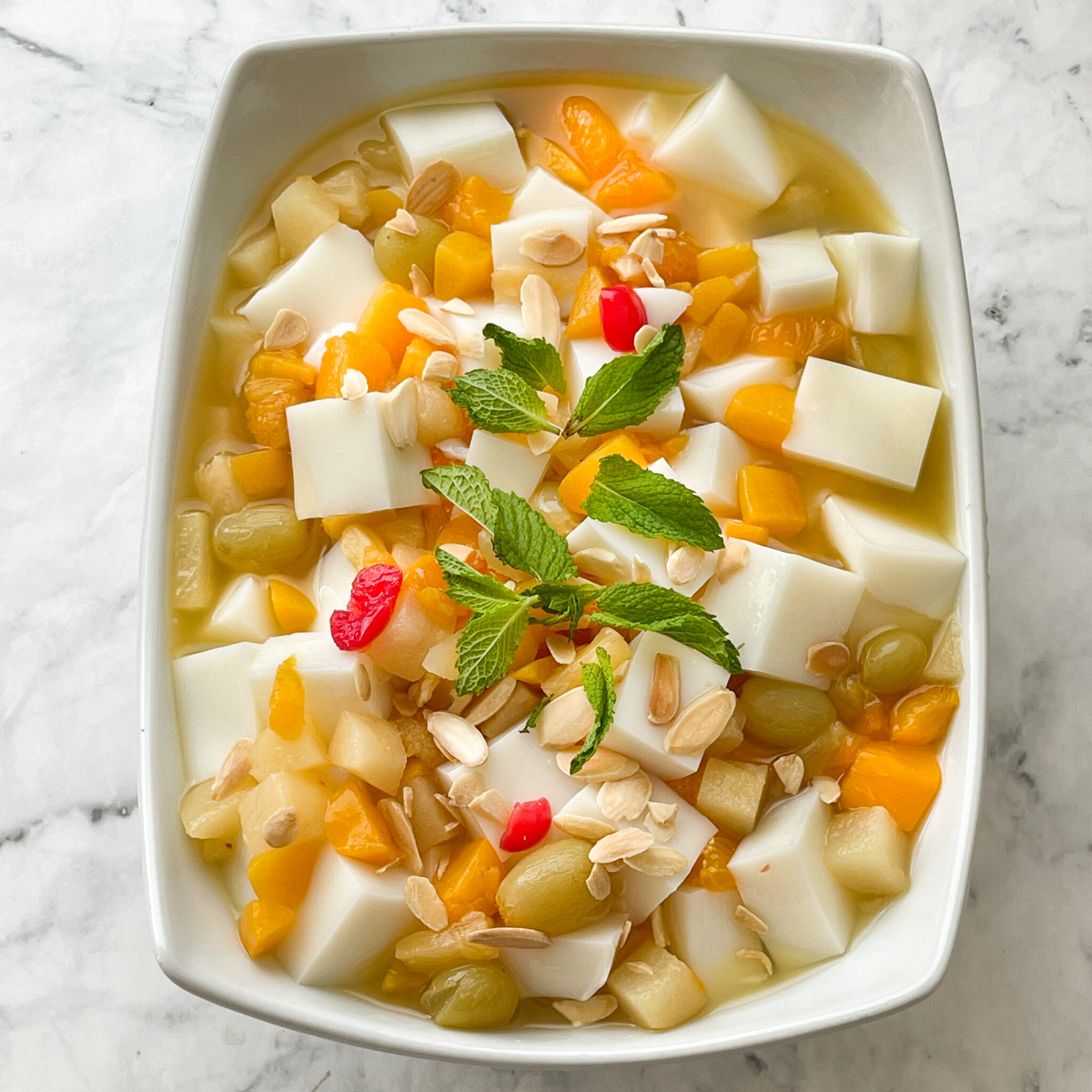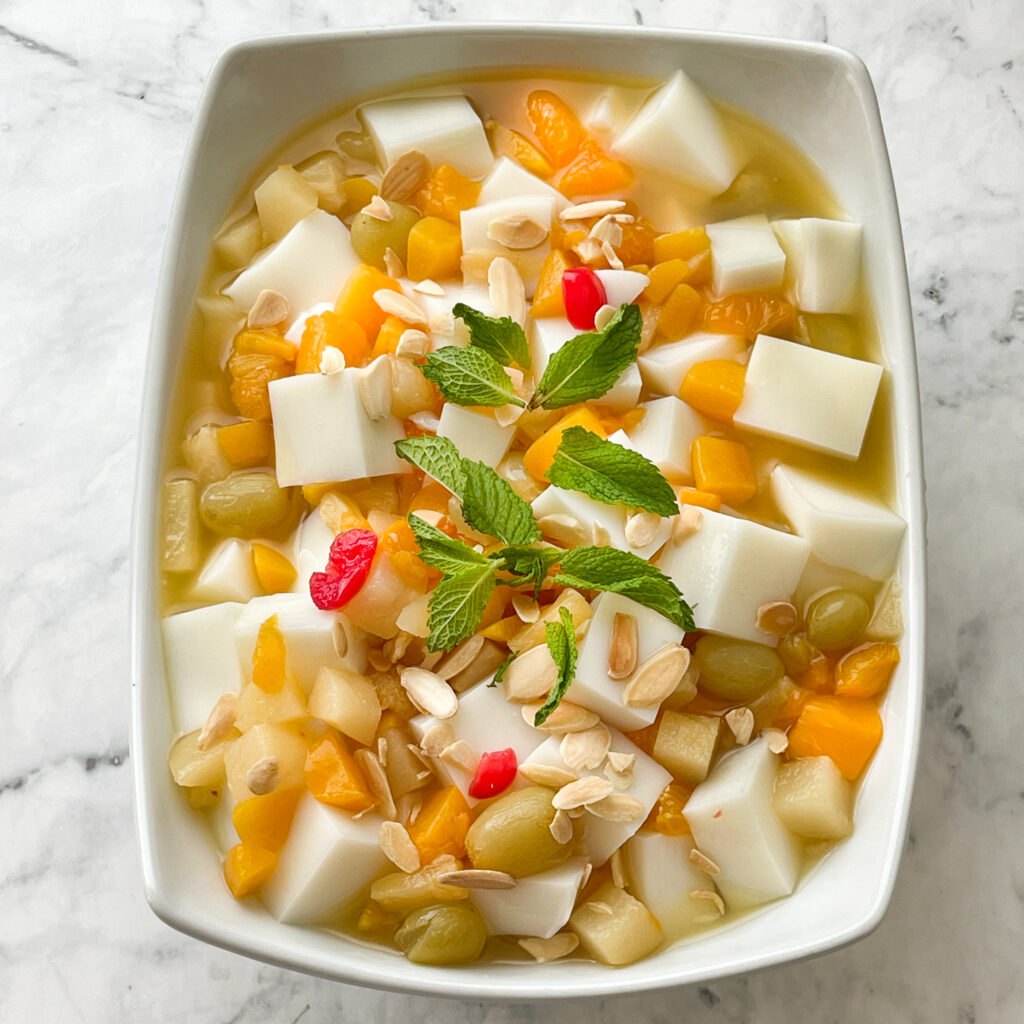 Easy Chinese Almond Jelly is my favorite dessert ever! And after you make it, it'll be yours and your family's too!
Ever been stuck in a dessert rut, churning out the same time consuming and heavy cakes and pies? Been there, done that! Let's shake things up a bit. If you're ready for something light and fresh, fun, and so easy, then you've landed in the right place!
Today, we're going to whip up a sweet treat that's straight from my childhood memories – Chinese Almond Jelly.  My mom always called it Almond Float, but many places, it's also known as Almond Tofu. Jelly because it's so much like that Jello you had growing up.  Float because it's so light, it floats on top of the fruit salad.  And finally, Tofu because it's a ringer for that savory tofu.
Read on and catch the video here and at the end!
CHINESE ALMOND FLOAT IS MY MOM'S SECRET WEAPON
This classic Chinese dessert was my mom's secret weapon when we had guests over. We had it so much that I truly can't think of any other Chinese dessert that she made.  (Of course, she grew up in New Zealand, so we always had sponge cakes and pavlovas when it was a birthday celebration!)
A little bit of prep, a few hours in the fridge, and voilà! You've got a refreshing, eye-catching dessert that's always a hit. 🥣✨
USES BASIC INGREDIENTS AND A SUPER EASY PROCESS.
The best part? You don't need to be a master chef to nail this recipe. The ingredients are basic pantry staples, and the process? It's a cakewalk! (Yes, I know, that's ironic!) Just mix, stir, refrigerate, and you're all set. No fancy gadgets or culinary school degree needed. 👩‍🍳👨‍🍳
LET'S GO BACK TO OUR CHILDHOOD
One bite of this almond jelly, and you'll be transported right back to those lazy summer afternoons of your childhood. It's not just about the silky texture and the delicate almond flavor, but the whole experience of eating it – the way the jelly dances on your tongue, the way it cools you down on a hot day, the way it makes you feel like a kid again. There's something magical about that, isn't there? 🌞🍮
Alright, enough chit-chat. Let's get cooking!
INGREDIENTS FOR CHINESE ALMOND JELLY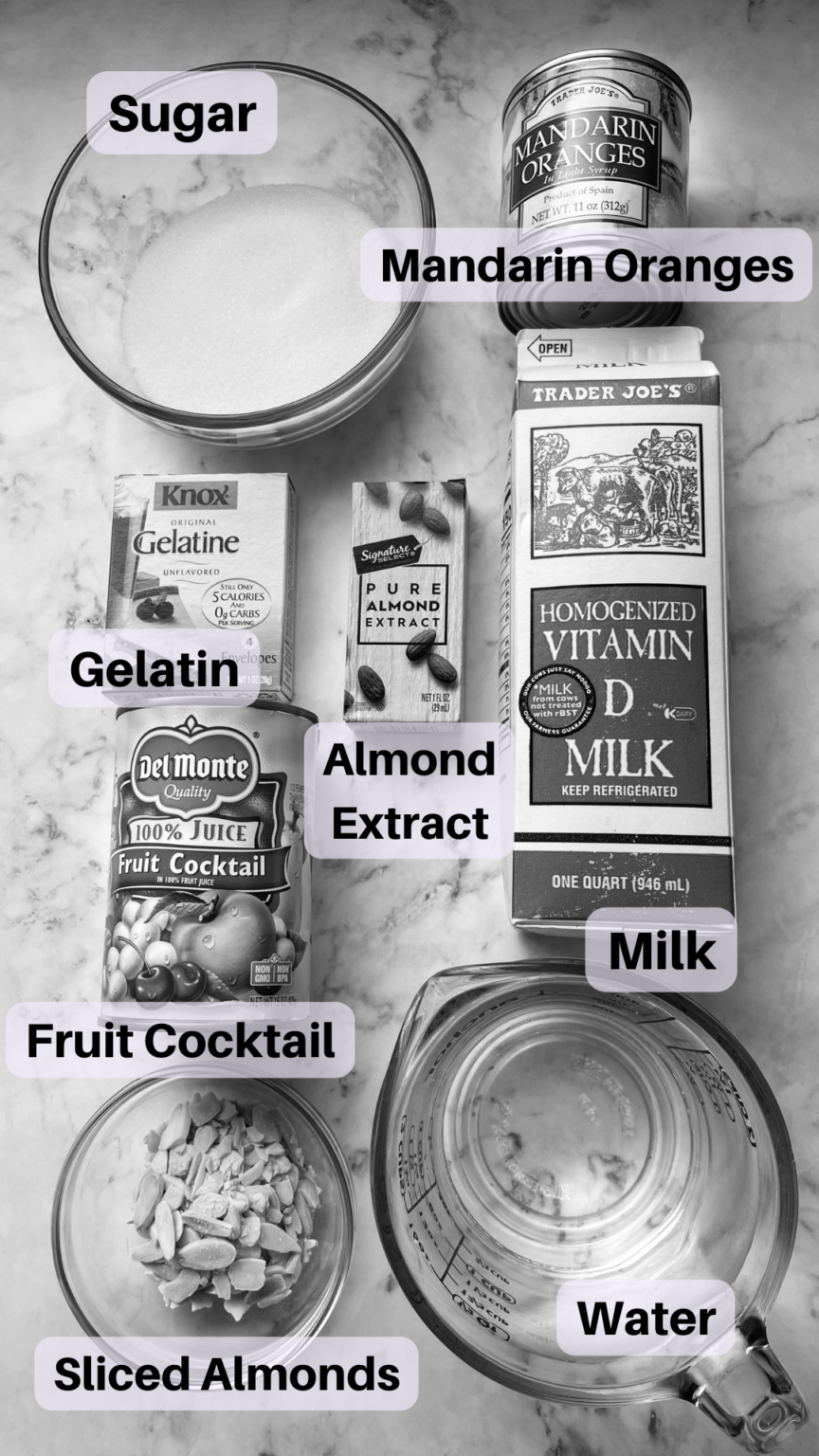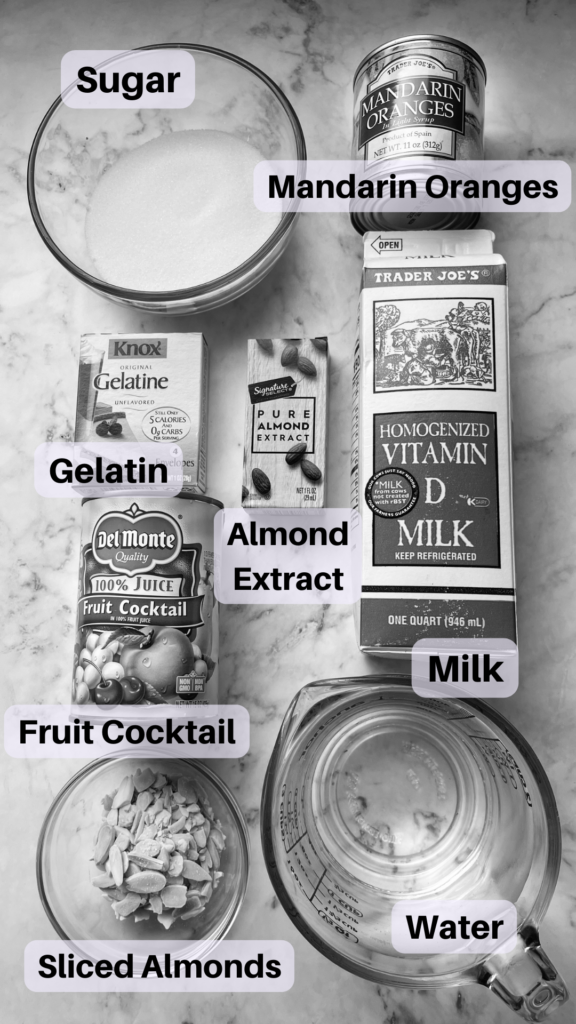 Before we dive into the process, let's get everything ready. Here's what you'll need:
Gelatine – I use the packets from Knox Brand, and use 4 of them. If you like the jelly a little softer, you can use 3 packets.  If you're vegan, look below in the notes for substitutions.
Cold water -to soften the gelatine
Sugar- to add a slight sweetness.  Chinese desserts are, in general, not overly sugary
Boiling water -to dissolve the sugar and gelatine
Milk -to provide creaminess and the beautiful whiteness
Almond extract- for the distinctive taste of almond jelly
Fruit cocktail- provide splashes of color
Mandarin oranges- adds a little acidity to the sweetness
Sliced Almonds – provide a texture contrast and some crunch
Mint- provides color contrast, and taste freshness
Gather up these simple ingredients, and you're halfway there. 👩‍🍳👨‍🍳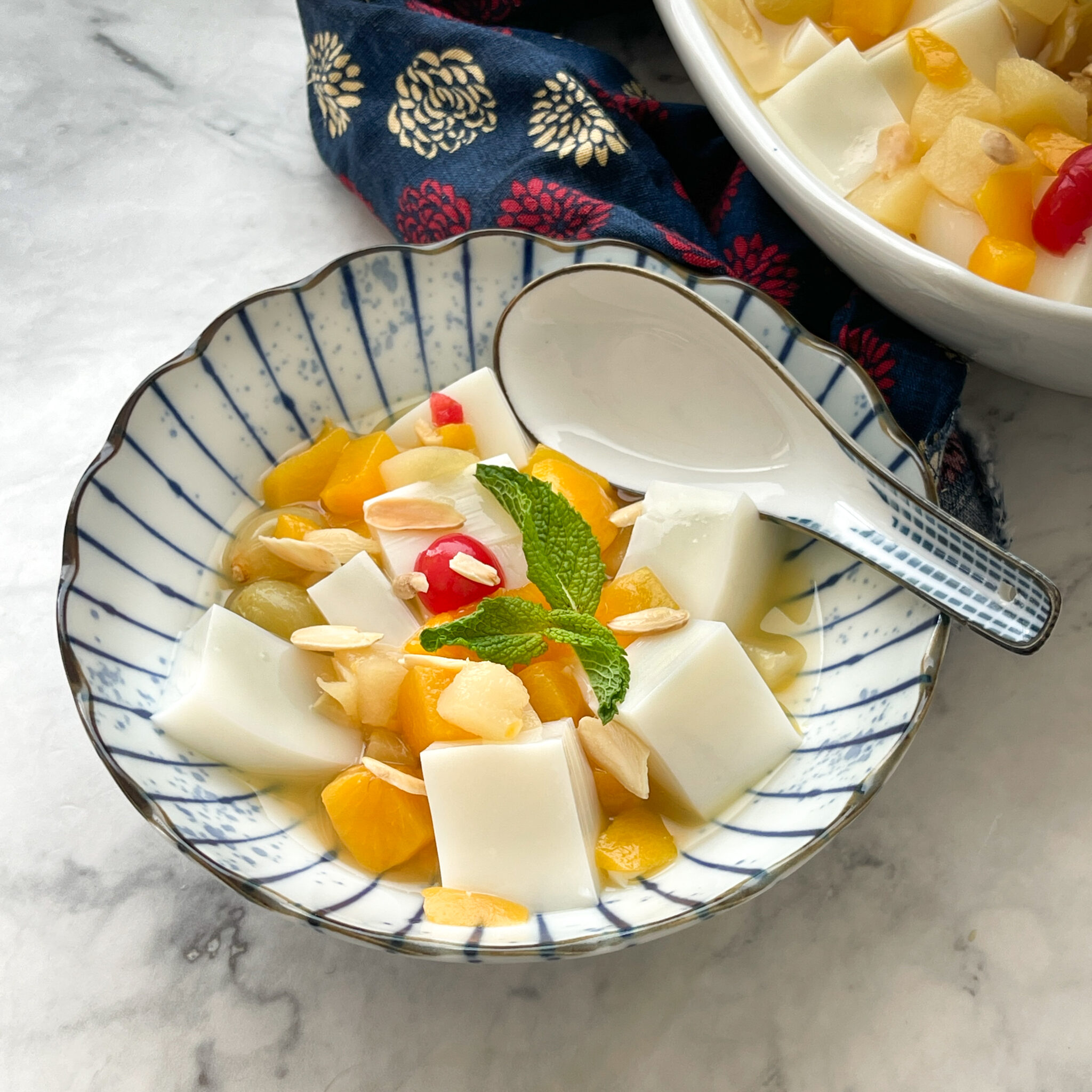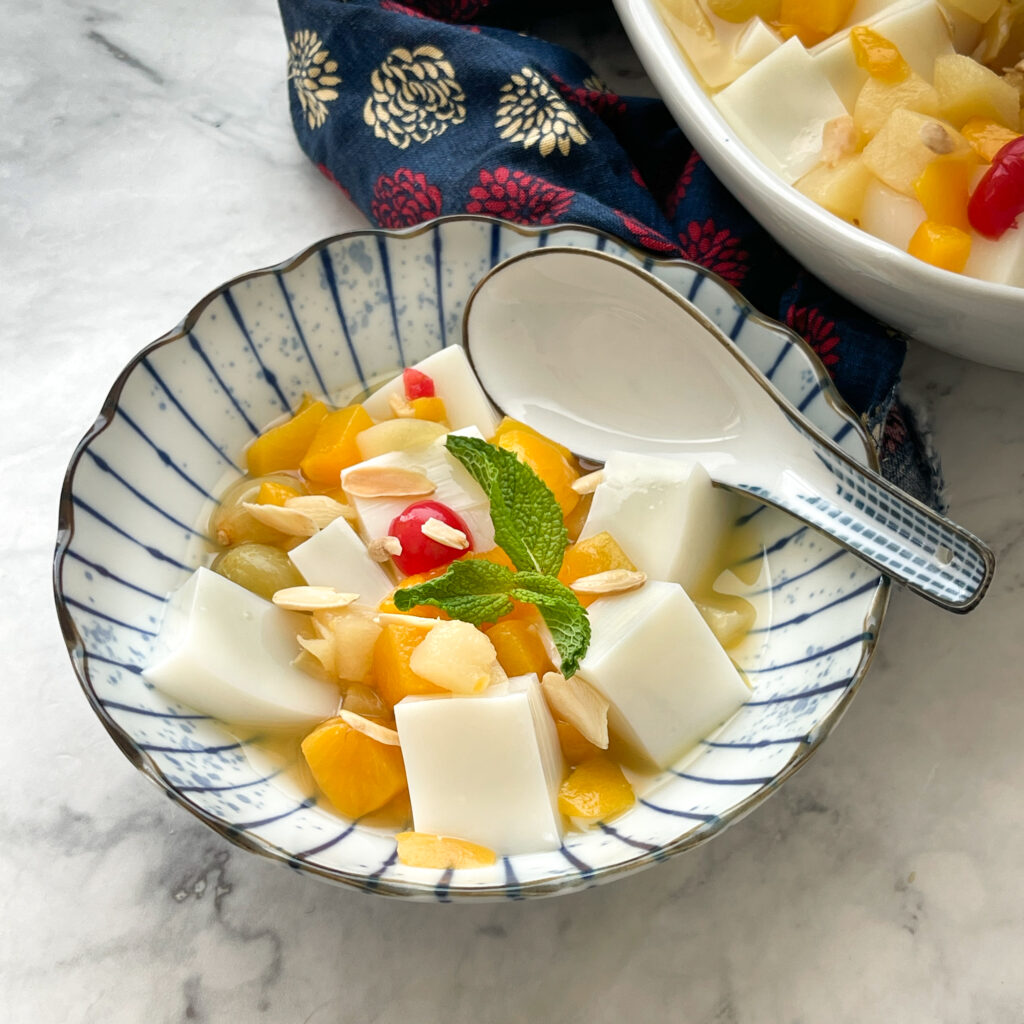 MAKING YOUR CHINESE ALMOND JELLY: STEP BY STEP
Alright, let's get down to business. Here's how it goes:
 Dissolve the gelatine in cold water.
Add sugar, then pour in boiling water and stir until sugar and gelatin are completely dissolved.
Mix in the milk and almond extract.
Pour the mixture into a mold or dish and let it chill in the fridge for about four hours.
Once set, cut into cubes and top with your favorite fruits, crunchy almonds, and a sprig of mint.
See how easy Chinese Almond Jelly is! It's as easy as pie – or, in this case, way easier than pie!
NOTES:
Gelatine can be substituted with agar agar 1:1 for a vegan version of this dessert. The setting times may vary slightly, so make sure to check the package instructions for the best results. Here's a great article about this substitution.
You can use your preferred non-dairy milk in this recipe. The taste of the almond jelly may vary slightly based on the milk you choose.
Feel free to experiment with different toppings. Since we lived in the mid-west, my mom always used fruit cocktail and mandarin oranges because they were easily accessible and bright and attractive.  Berries, kiwi, and peaches are great options, but use what you have on hand or your family's favorite fruits.
This dessert can be stored in the refrigerator for 2-3 days. But trust me, it's so delicious, it likely won't last that long!
Remember, patience is key. Make sure your jelly is fully set before you try to cut it into cubes.
This recipe is great for make-ahead desserts. Just prepare it the night before and let it chill overnight.
Cut the jelly into bite-sized cubes. That typically means cubes of about 1 inch (or 2.5 cm) on each side. This size is easy to eat and is a perfect size for absorbing the flavors of the fruit and nuts (if you use them) that accompany the jelly. However, you can cut the jelly into larger or smaller cubes depending on your preference. It's essential to ensure that the pieces are small enough to be comfortably and safely eaten, especially by children.
FAQS:
Q:  Can I use almond milk instead of almond extract?
A:  For this recipe, I recommend sticking with almond extract as it gives a stronger flavor. Almond milk will not give the same impact.
Q:  What if my jelly doesn't set?
A:  Make sure you're using the correct amount of gelatin and give it enough time in the fridge.
Q:  Can I freeze the Almond Jelly?
A:  It's best to just refrigerate the almond jelly. Freezing it will alter the texture.
Q:  Is this recipe gluten-free?
A:  Yes, it is! This dessert is also great for anyone who is lactose intolerant if you use lactose-free milk.
Q:  I'm following a vegan diet. Is there any substitute for gelatine?
A:  Absolutely! Agar agar, which is made from seaweed, is a fantastic vegan alternative to gelatin. It has a similar texture and sets like gelatin. You can find it in health food stores or online. The conversion is generally 1:1, but please check the instructions on the package.
Q:  Can I use an alternative milk in this recipe?
A: Yes, you can substitute regular milk with your favorite non-dairy milk like almond milk,  or soy milk. Just remember that the flavors might slightly alter the taste of the final dessert.
Q: Is there a specific almond extract that you recommend for this recipe?
A: Any pure almond extract should do the trick! But remember, quality matters. Opt for one that doesn't have artificial flavors.
DON'T FORGET TO HAVE FUN! 🌟
Cooking up this Easy Chinese Almond Jelly isn't just about preparing a dessert. It's about having fun, exploring new flavors, and making memories in the kitchen.
And remember, cooking is about sharing the joy with others. So, why not invite the kids into the kitchen and whip up this dessert together? It's a fun culinary journey where Your Kids and Yu Can Cook! 🎉👨‍🍳👩‍🍳
We can't wait to see your Chinese Almond Jelly creations! Share your experiences with us in the comments, and if you love our recipe, don't forget to share it with your friends. Happy cooking! 🍳🔥
CRAVING MORE SWEETNESS? EXPLORE OUR OTHER DESSERTS!
For more of my favorite dessert recipes, check out these chewy but healthy Spelt Chocolate Chip Cookies, these dainty and light Classic Orange Madeleines, or this not-too-boozy Drunken Persimmon Bread.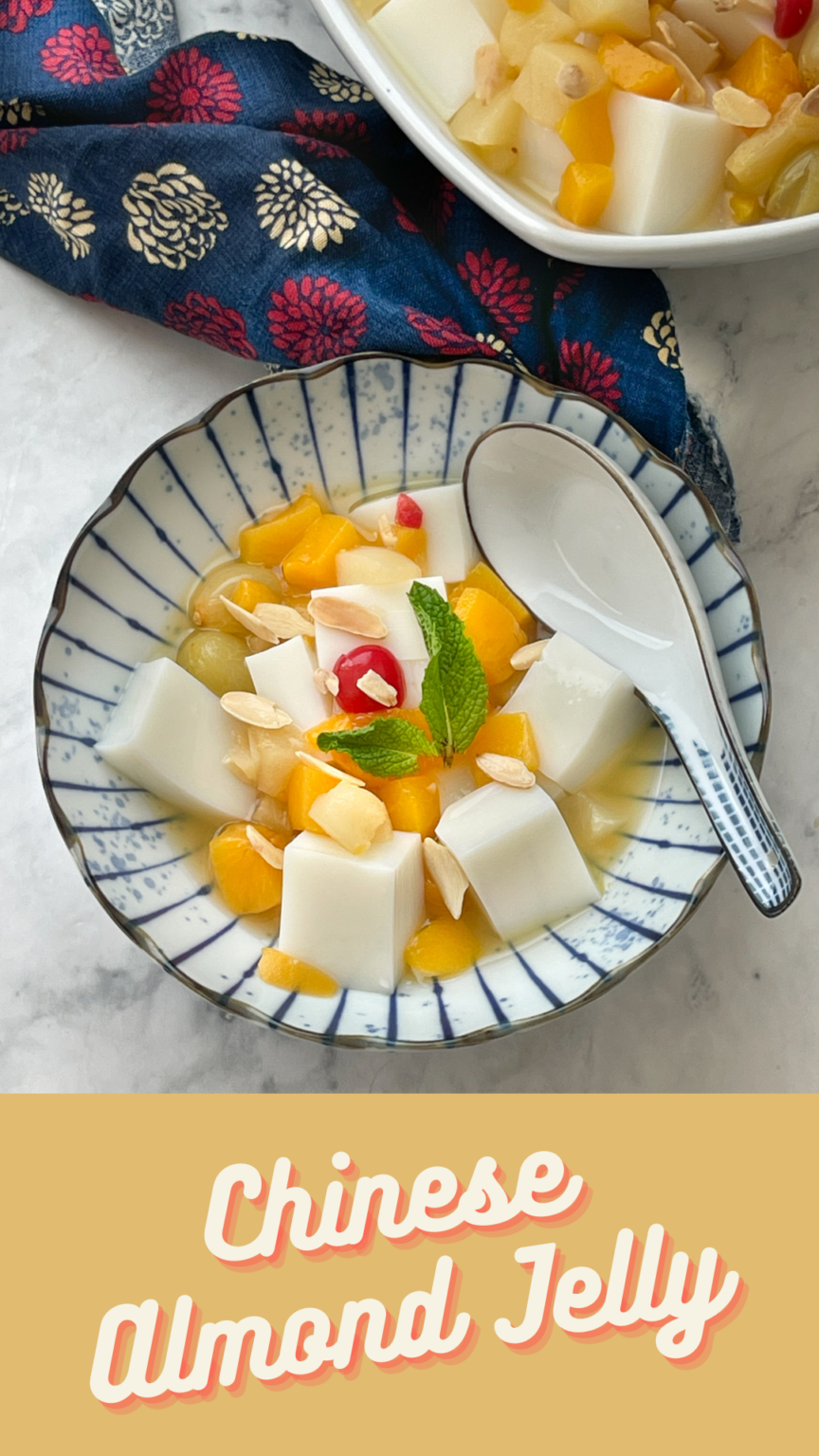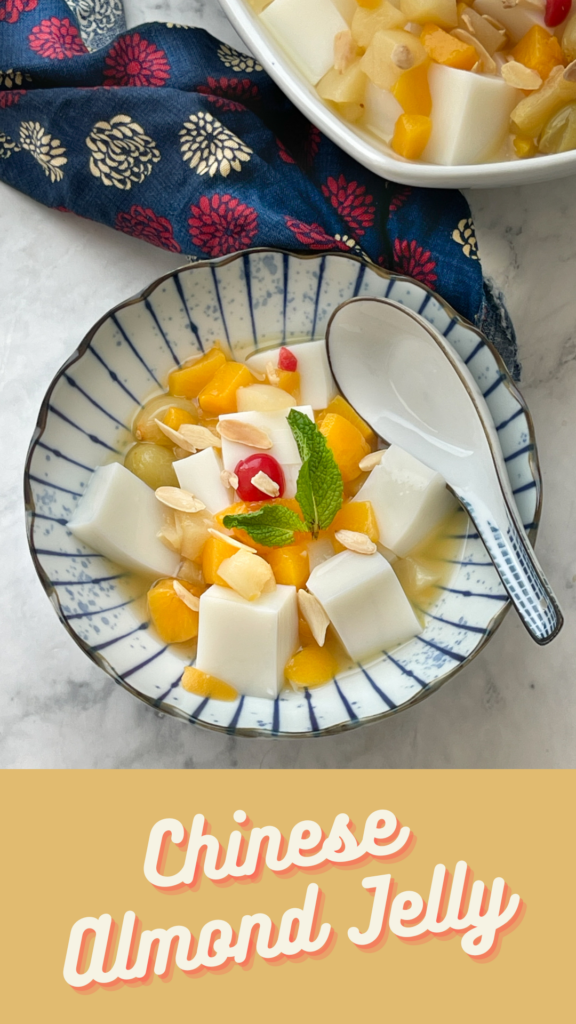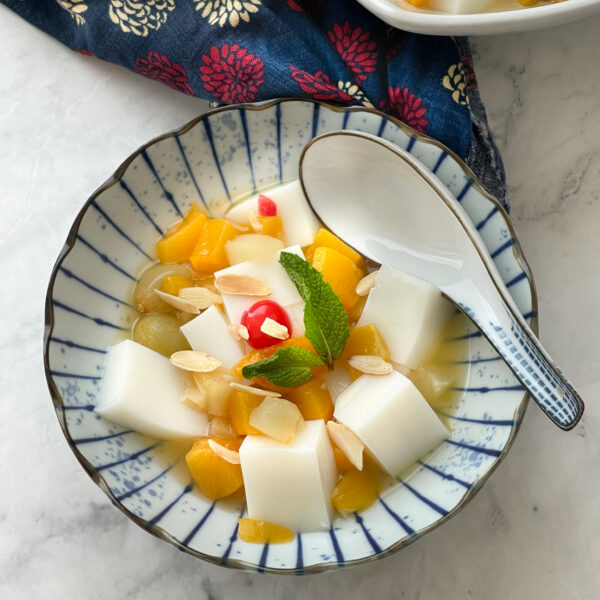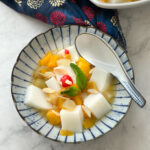 Print Recipe
Easy Chinese Almond Jelly (Almond Tofu/Almond Float)
Experience the delightful creaminess of Almond Jelly, a classic Chinese dessert that will captivate your taste buds with its unique flavors and smooth texture
Ingredients
3

tbsp

unflavored gelatin

(if using Knox, use 4 packets)

⅔

cup

cold water

⅔

cup

sugar

1½

cups

boiling water

2

cups

milk

2

tsp

almond extract

2

cans

fruit cocktail

15 oz can

1

can

mandarin oranges

8.25 oz can

1

handful

sliced almonds

for texture (optional)

1

sprig

mint

to taste (optional)
Instructions
Soften gelatin in cold water in a medium bowl. Leave for 5 minutes.

Add sugar and boiling water to softened gelatin.

Stir all thoroughly until dissolved so no sugar or gelatin remains.

Pour in the milk and extract, and stir well.

Pour into a 9" X 13" glass dish or baking pan.

Carefully, put into refrigerator for at least four hours to achieve perfect firmness.

Cut almond jelly into bite-sized cubes. About 1 inch (or 2.5 cm) on each side.

Add fruit cocktail and mandarin oranges. Stir gently until combined.

Garnish with mint leaves for decoration and pop of fresh flavor.

Sprinkle a handful of sliced almonds on top for crunch and texture.
Nutrition