Spelt Chocolate Chip Cookies with Whole Grain Flour
Irresistibly chewy, nutty, melted puddles of chocolate chunks, delectable spelt chocolate chip cookies are oh-so healthy!
Irresistibly chewy, nutty, melted puddles of chocolate chunks, delectable spelt chocolate chip cookies that are oh-so healthy!
Are you a cookie lover who's always on the lookout for delicious but healthy treats? Look no further than our chewy and luscious spelt chocolate chunk cookies! Made with wholesome ingredients and packed with rich chocolate chunks, your sweet tooth will be satisfied while nourishing your body.
One of the key ingredients in these cookies is spelt flour, an ancient grain that's been enjoyed for centuries due to its nutty flavor and numerous health benefits. Spelt flour is packed with nutrients like fiber, protein, and minerals, and is a great alternative to refined wheat flour for those who want to avoid gluten.
IN THIS POST: EVERYTHING YOU NEED FOR THESE COOKIES
*VIDEO for how to make

*Ingredients you'll need
*How to make this recipe
*FAQ about this recipe
WATCH HOW TO MAKE THIS RECIPE:
INGREDIENTS FOR THESE SPELT CHOCOLATE CHIP COOKIES
To make these gorgeous chewy, nutty, morsels, you'll have to gather up the usual chocolate chip cookie party guest list. It's just going to be a slightly fancier party this time!
unsalted butter
granulated sugar & brown sugar
eggs
baking powder, baking soda, salt
dark and milk chocolate chunks
chopped, toasted hazelnuts
spelt & whole wheat flour
parchment paper or silpat to line the baking sheet
HOW TO MAKE SPELT CHOCOLATE CHIP COOKIES
These cookies are special because of the flour that you use. They are not complicated to make, it's just the flour that provides a delicious texture and richness to these little jewels!
Make the dough. Cream the butters and sugars together. You won't have to soften the butter first, the creaming does the work for you!  Add the chocolate chunks and nuts to the wet. Then, mix together the dry ingredients and add in to the wet. 
Don't overmix! Only mix until just combined. If you overmix the dough, it can cause the gluten to over develop, making the cookies dense.  We're not making hockey pucks here!
Scoop and bake! I always scoop my cookies with a large ice cream scoop, because who doesn't like a giant cookie.  But, you can always take a little scoop and make some school treat size cookies too! Make sure the edges are cooked, and the middle a little soft and puffy.
Slam and rest! No, I'm not talking about the oven door! After taking the cookie sheet out of the oven, slam it on a hard surface, like the stovetop, or a heat resistant countertop.  You'll get thinner, chewier and just perfect cookies!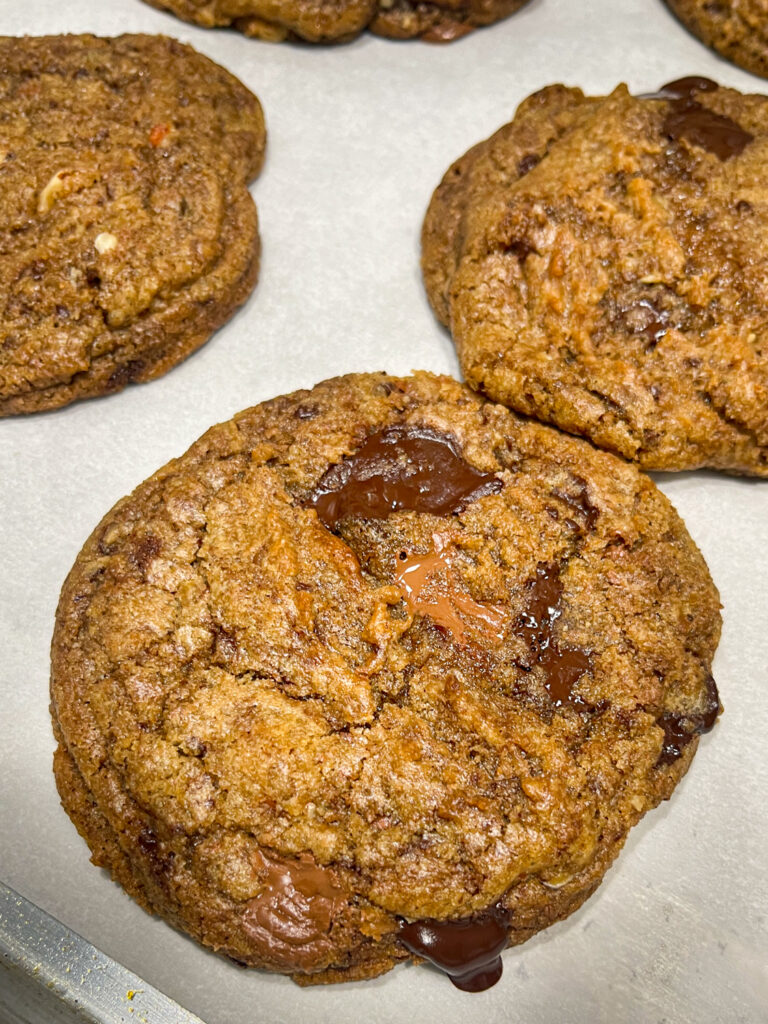 SPELT CHOCOLATE CHIP COOKIES: FREQUENTLY ASKED QUESTIONS
My Cookies turned out extra thick. Why?This is because of the flour.  It's really important to take the time to spoon your flour into the measuring cups and level them with a knife or frosting spatula. If there's too much flour in the cookie, it will be thick and won't get a crispy edge. 
Can I store the dough in the fridge or freezer? YES you can!  Split the cookie dough into thirds.  Bake up one third, scoop up (with your ice creamscoop) the other two thirds, and then refrigerate (up to 5 days) or freeze (up to three months) and then you've got two more fresh batches ready to bake off for the future!
Can I use other whole wheat flours? I don't have any (or can't find any) spelt flour at my grocery store.  I recommend any type of flour with some whole grain flour mixed in. Whether it's AP flour as the base, mixed with whole wheat, or rye, or buckwheat, you have your choice of healthy flours.  Use what you have, knowing that the texture of the cookies will change according to the flour you use.  I always change up the flours I use, depending on what I have in my kitchen, and they turn out delish every time!!  You can get the Spelt Flour on Amazon here.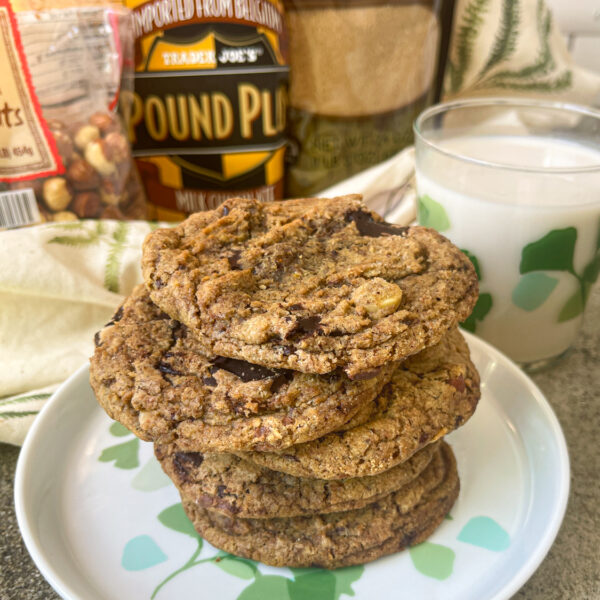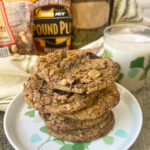 Print Recipe
Spelt Chocolate Chip Cookies
The best whole grain cookie you'll ever eat!
Instructions
Preheat your oven to 350°F (175°C) and line a cookie sheet with parchment paper or with a Silpat.

Cream your butter with the sugars. You can use a hand-held or a stand mixer with the paddle attachment. Or if you're up to the workout use a large bowl with a wooden spoon and muscle power. Cream the butter with both the brown sugar and the white sugar until it's well mixed in and looks airy. It will take maybe 5-7 minutes on medium speed.

With the mixer still running slowly, add the eggs one at a time. Make sure you scrape the bowl after adding each ingredient to make sure everything is fully mixed in.

After the eggs are mixed in add the dark and milk chocolate chunks, the toasted hazelnuts, and mix until well incorporated. The cookie dough should be thick and chunky.

In a second bowl, whisk together the dry ingredients; the spelt and whole wheat flours, baking powder, baking soda, and salt.

Add the dry ingredients to the cookie dough, and mix until the flour just disappears. Be careful that you don't over work the dough or else you may end up with hockey puck hard cookies!

Use the ice cream scoop to place the cookie dough onto the cookie sheet. I love a giant cookie so use a large scoop. If you need some medium sized ones, use a smaller scoop.

Bake the cookies in the preheated oven until golden brown on the edges. It should take about 8 minutes for medium-sized cookies and 10-12 minutes for larger ones. Watch the cookies as they bake, since baking times can vary depending on your oven and the cookie size. The cookies should be crisp on the edges and soft and puffy on the inside for chewiness.

Once you take the sheet pan out of the oven, slam the pan on a hard surface, or the stove top. This will flatten them and give you a chewier cookie. You don't have to put the cookies on a cooling rack.

Enjoy your freshly baked Chewy Spelt Chocolate Chip Cookies with a glass of milk or a cup of coffee or tea for a super luscious treat any time.
Notes
This recipe calls for whole grain flour. Try using stone-ground, whole grain flours. Try different options like Barley, Whole Wheat, Rye, Spelt, and Hard White and you'll get so many delicious textures and flavors.
The recipe makes between 16-24 cookies, depending on your scoop. It's up to you what size you want to make, is it for your kids, or for a special brunch, or for an adult SuperBowl party, it's all up to you!
Nutrition
LOOKING FOR OTHER SWEET TREATS - TRY THESE RECIPES